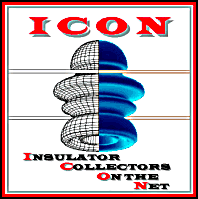 All about ICON
Insulator Collectors On the Net
Over 1000 members!
ICON - now more than a mailing list! Joining ICON does NOT require you to subscribe to the mailing list! You can just provide information about yourself, your collecting interests, and your interests in helping other collectors. At the very least, if you provide your name and email address, other online collectors can also find you online!
Note: If you want to update your ICON information please use this form.
By default, by joining ICON, you are also subscribed to the ICON mailing list. If you do not want to be on the mailing list, please uncheck the "Add me to the ICON mailing list" box below. Please read the ICON mailing list guidelines for more information about the ICON mailing list.
Please note: This form asks a lot of information; study it carefully. Required fields are marked with a * and the rest of the information is optional. However, you and other collectors will benefit by sharing more information. Supply as much additional information as you are comfortable with!
Be sure to read and understand the Privacy Options and remember to press the "Join ICON" button at the bottom of the form.
Please take this seriously, and try to be sure of the accuracy of all the information you choose to provide, and try to type in your responses in the correct case. Thanks for your help!
---
You may also want to create a Insulator Collectors' Page about yourself; to share your interests with other collectors.
---
If you have questions or comments, please use this Feedback Form.

Return to the ICON home page
---
Last updated Sunday, September 28, 2014