Washington Post Features "Glass Insulators"
Reporter: Linton Weeks (Washington Post Staff Writer)
The Thursday, April 16, 1998 issue of the Washington Post, on page B4, featured an article titled "One Man's Hobby". This column discusses a half dozen web sites. The column starts:
On the Internet, collectors of just about anything - stamps, coins, Beanie Babies - are discovering that there are folks with similar loony leanings. Because of the Net, eccentrics can band together to create tiny little mass movements. The other day I searched the Web for sidewalk sulky enthusiasts. To no avail. But, I did stumble on some zany collections.
.
.
Glass Insulators. According to one Web page, more than 2,000 folks collect the pretty colored glass insulators once used on telegraph and telephone hones. The objects can sell for a few dollars to more than $2,000.
.
.
Getting there: Glass Insulators at http://www.insulators.com
Although the column featured a half dozen collectables, only one photograph was printed. The photo showed our "mascot", the CD 257 in Electric blue! Shown below. Too bad it wasn't a color photo in the newspaper!!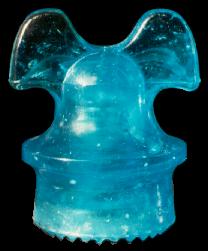 Your webmaster had no idea this was printed, until a collector sent in this article! Small world!

Return to the Insulator News page
---
If you have questions or comments, please use this Feedback Form.
Written Thursday, April 16, 1998