This section contains some neat tricks and tips to enhance your usage of ICON and www.insulators.info and the web in general.
Do you often search for an ICON member by name or email address or eBay name? Typically, you have to go to the ICON search page, type in the name, press search, and wait for the answer. Wouldn't it be great to do this in one quick operation from your browser?

Do you what to look up a PicturePoster picture by picture id?


Do you often look up and item on eBay by item number?


Do you want to look up the definition of a word?
For example, you could type the following: (your display may look somewhat different)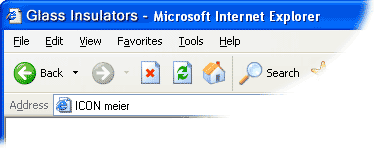 and press ENTER and it would show you all the ICON members whose name contains "meier?"
Or, type in
pic 649924
to find and display the picture item on the PicturePoster?
Or, type in
ebay 3201465917
to find and display this item on eBay?
Or, type in
dict insulators
to display the meaning of a word? (The results are from several dictionaries)
Neat trick? You bet! This requires that you have Microsoft Internet Explorer v5.5 or greater, and are running Windows. (sorry, it doesn't work from inside AOL's browser window either...)
It appears that you are not running Microsoft Internet Explorer V5.5 or greater and/or you are not running Microsoft Windows.
You do not have the supported configuration to use this tool.
If you think you are running a supported configuration, please include this information:
ccbot/2.0 (https://commoncrawl.org/faq/)
---
If you have questions or comments, please use this .

Return to the ICON home page
---
Last updated Friday, July 03, 2009