Tuesday, January 22, 2008
Dwayne Anthony writes: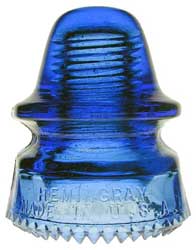 The deadline for entries has passed and the selection process is complete. All qualified entrants have been forwarded to Bill Meier for the Wednesday drawing. You can read about the details of this new raffle.
Some ICON members have expressed interest in reviewing the many submissions that were presented to me for consideration. I edited all submissions, removing names and sensitive material that might identify the writers (plus all the personal notes to me). I attempted to condense them as much as possible, but a few were worth leaving in their near entirety. What we now have for your reading pleasure, listed below, is a wonderful grouping of anonymous snippets that express the passion for our hobby and especially the people in it.
If I may please, I'd like to comment briefly on one aspect of this secondary drawing for the ICON/Al Way cobalt signal that was initially donated by Ginny Way for the "primary" ICON raffle. One of my initial thoughts while considering to re-raffle the signal was to donate it anonymously to the Crown Jewels Benefit Auction. Several of you have politely asked if I had considered this avenue. So as not to imply a lack of consideration for the importance of this worthy cause, which I personally support and respect immensely, I will briefly explain why I chose the course that I did.
First off, I felt that since so many collectors had supported ICON in 2007 through donations for a chance at this signal, I wanted to give some of those supporters a second chance. However, it would mean so much more to me personally to see the signal go to someone that really desires to own it, for some special, specific reason in their life; maybe a deserving junior, a new collector or maybe a collector with a tight budget that may otherwise never have the opportunity to enjoy such a prize. Heaven forbid it end up in the hands of a dreaded dealer that would sell it, or an auctioneer that would profit from it! (Grinning) It was my feeling that if I had donated it to the CJ raffle, the importance behind the initial expression that Ginny had made in Al's name as a fund raiser for ICON might be lost.
Sure, money would have been raised for a good cause, but where would the signal have ended up? For example only: would the kid that worked all week mowing lawns to buy a chance at the signal still have the same equal opportunity? We know it would have ended up in the hands of the highest bidder, but not necessarily the hands of the most appreciative. It was with this thought process that I comfortably settled with my final decision to ask for statements from eligible collectors, followed by a selection process for the final candidates, which Ofelia kindly assisted me with (nice to have compassionate female input, too). Based on the heartwarming responses I received, I am convinced that this method of finding a new home for this signal was the appropriate decision to make.
A personal "thank you" to everyone involved, your words have made this one of the most uplifting experiences I have been involved in since becoming a part of this great hobby 23 years ago!
Bill Meier comments: One of the people below will be selected at random, using a procedure similar to the drawing of the "primary" raffle. The number of raffle tickets purchased for the previous auction has no bearing on the drawing for this auction...
The list of submissions below is in no particular order:
---
I would like to receive the cobalt insulator so that I could donate it to the ICON auction sponsored by the Correiro's. I believe Ginny would be delighted to know that proceeds from the piece would be dedicated to promoting the hobby in a way unique to ICON.
I would like the Hemingray signal to contribute to Crown Jewels. It would become the prize for a year long (12 month competition). Only eligible members of NIA and they must be under a certain age...I am thinking 18 or so. Youngsters would have to write an article (include graphics, photos etc) of a quality to be printed in CJ. Howard and Linda and you could be the judge of the winner after the 12 articles are printed…
I am fairly new to the hobby of insulator collecting. I have enjoyed this hobby tremendously mainly because of the people I have met! I would like to be considered for the cobalt blue insulator since I do not own one in my collection…
I'm 15, and my collection is just getting good. I have been collecting for just over a year, and I definitely have the "insulator bug." The Cobalt Signal would look great on my shelf of insulators which is organized by CD number from smallest to largest. I only have one CD 162, and one with color would be nice…
As a full time college student, it is hard to amass a breathtaking collection, but I have to say that it happens one piece at a time: It is for the exhilaration of bringing true history to the present and preserving that history to make it timeless... It is for the hobby that brings these like-minded people together in camaraderie; to honor them by saving history for the years to come is why I would like to try to get this beautiful signal in my collection.
I do not own, nor am I likely to possess many quality pieces at this time. My "signals" of quality are limited to a whiskey piece, in very experienced condition. I do however use my collection and interest, to mentor new collectors and give presentations on the Hobby…
I'd suggest selling it and giving some or all of the funds to [a charitable] organization… I think that would be a very noble thing to do…
I would like to add this to my collection because it's beautiful, and I don't already have one. I would like to win this because I can't afford to buy one unless I switch tactics to buying only 2 or 3 nice pieces per year…
I'm not interested in adding my name to the "I want the blue signal for my collection" list...but instead, I'd like to substitute the name of a young person I've been mentoring for the past several years…
I've been gradually thinning my collection down to the true "keepers" -- insulators that I'm not willing to put on the sell/trade block, for whatever reason. In some cases, this is determined by quality; in others it's nostalgia, association of the insulator with special people, events, or circumstances of the piece's acquisition…I believe that this cobalt signal would be one of those pieces.
I would like to be in the second pool, because I love signals, my neighborhood utility poles still have old aqua signals on them, I have a small shelf of signals, about 10, and I don't have any cobalt insulators and would dearly love one.
I must admit, my reason for "wanting" to win this baby has changed-upon reading this email. Now, my reason is simply the fact that it would be a dual-honor, not only to have a killer cobalt owned by the late, great Al Way, but also one relinquished by a…collector such as yourself…
I have never had the money to buy a really nice insulator for my collection. I have only been to two or three shows in the last three years. I have always given my time and money to my family and enjoyed a meager collection because I really love insulators. But since 1995 when I had to start buying insulators I have not had the money to buy any really nice pieces. I hope you pick me for one of the finalists so I can at least dream of owning a nice insulator.
I really don't need aforementioned insulator. It would be nice to have, but, not necessary. I would like to nominate a young collector in my stead… Every now and then, a youngster comes along, that disproves senior's broad concept of the youth of today…
As to my interest in the raffle piece, I gave up some time ago on getting any expensive insulators as I set a limit of $100 on any one piece. As a result, I have been mostly bidding or buying foreign ones for the last couple of years. Adding a US insulator would be real frosting on the cake.
Wow, is this a great hobby or what?!...I would like to win the insulator because: I have been a collector since I retired about five years ago. I collect because I love the history and beauty of insulators. However, living on a fixed retirement income, this is the only way I will ever own a beauty like this.
First of all I am relatively new to the hobby...I guess about three years now...I do 99% of my collecting in the wild, so there is zero chance of me finding a Cobalt anything still shining high up on a pole…I have nothing of color except a couple of yellow-green 145s…And lastly...I would just love nothing more than to have something so shiny and pretty in my collection so I can watch the sun shine through it. It would certainly be the crown jewel of my collection!...I think this group of people are a great bunch!
I really don't need this insulator, but…Well I would submit half of it's value or more to CROWN JEWELS of the WIRE magazine to continue the color printing…Maybe even donate some of the other value to ICON...I'm on disability and it's is very hard to buy anything like what I had when I was younger...I'm sure you know how the social security works...you live in poverty
I was trying to win the Cobalt Blue insulator and give it to my 14 year old son…[He] has his own insulator collection, and I was hoping to surprise him with it as a birthday present when he turns 15…
Although I've been collecting for going on four decades now, I don't have a true cobalt insulator and I have to admit I was hoping I might hold the winning ticket for Als Hemingray 19. …the thought of being a curator for the cobalt piece Al had owned was appealing to me.
I already have a cobalt signal, so I don't want my name in the hat. What I would like to do is nominate someone else, namely a new collector…I met him recently at a [insulator] swap meet, seemed like a really nice guy. Wants a cobalt something terrible, but isn't to the price stage where he can / is willing to spend the cash. So....I'd love to see it go to him.
My collection consists of a few hundred commons with an average price of around $ 1.25 .(Am retired on fixed income). Not a sob story but the truth. Receiving the cobalt would be the biggest event of my life. (after marriage).I would sign papers that I would not sell it .It would remain in my collection for the rest of my life.
As a new insulator collector, what an honor it would be to add something as beautiful as this to my collection. I've never had the privilege to see or let alone, hold one of these in person, so to be able to actually own such a terrific piece would certainly give me a feeling of being a child again. Those fleeting moments are few and far between these days, and it would be something I would dearly treasure and hand down to my son some day. He's actually getting into the hobby with me, and at 13 years old, that in itself is a rare thing these days. It's hard to pry children away from all the violence on TV and video games, so it's so great to see him take an interest in something with such great history and that we can share together.
I would like to have the cobalt signal to add to my collection and would appreciate very much because insulators like this are way too much for me to afford.
Wow... this reaffirms why I joined ICON in the first place, esp. after reading the recent series of discussions. I'm a relatively new collector and although the initial attraction was (and still is) the insulators themselves, I've been amazed by what a fantastic and helpful group of folks the hobby attracts. I've never won anything in a raffle, and didn't expect to this time either, but figured it was a good cause and it would certainly have been a great 'gift' had we won…it would be the centerpiece of our growing collection, and that we would agree never to sell it.... if and when the day comes, we'd donate it back to ICON or to NIA as a way of paying back for what these organizations have provided us as new members of the collecting community.
There is only one Hemingray in my display...it is a 162 in vivid cobalt, but has damage to most drips & a couple chips to the wire groove... I keep it because of the fascinating color. I would be honored to have Al Way's cobalt in my display and in turn sell mine with the proceeds going to Icon.
I would love to have the cobalt gem, but not for me. There is a 16 year old collector who has walked nearly 100 miles of abandoned or long gone 'ghost' lines in the last two years hoping to find that treasure piece. His entire collection probably amounts to less than $500, most of them from our Hunts or that he has traded for. He has very little money but spends hours scanning the ICON For Sale lists. He is one of the smartest 'young' collectors you'll ever meet and a good kid. The cobalt signal would be the absolute centerpiece of his collection and easily the most valuable and damage free insulator he has. Trust me, it would be proudly displayed and thoroughly appreciated…You would be remembered by him for as long as he has a collection, say maybe the next 60 or 70 years!
On my wife's birthday , we went to the casino for her free buffet and they gave her 10 dollars to gamble with…She won twenty dollars and split it with me and said now you have your ICON donation. I was sure this lucky money would win us this raffle. And it still might .....
I would like to Give this piece of glass to…Due to financial problems…I'm very sure that this would be A WONDERFUL SURPRISE…
I've been collecting for about 3 years and share this hobby with my 12 year old son… We would love to add this insulator to our collection simply because of the color. We have only seen two cobalt blues in person, the first was at a fellow collector's house…and we immediately fell in love with the color. This insulator would definitely have a place of honor in our collection.
Please reenter me in the drawing for the CD162 Cobalt for the following reason: Because speculators have driven the cost of a CD162 cobalt insulator as high as it is, the only way I could ever add one to my collection is to win one in a drawing.
I would like to offer up my chance to be in the pool again to [a collector]. I have had a few discussions with him about various topics and I gather…he is having a rough time of it. I feel that it would be a positive influence in his life if he got this cobalt. He is a young guy…and looks like he could use a break. As much as I would love to have this beauty in my collection, I think it would be appreciated more by [him].
In regards to the raffle, I would love a chance to upgrade on this piece. [A collector] got me to buy one in an auction over twenty years ago and it has a chip on the wire groove. I can't afford mint pieces so this would be one way to possibly get one at a reasonable price. I could then try to sell my old one at a good price for someone who wants one to start with.
I would like to nominate [a collector] for this signal. He emailed me a while back about a colored signal…but I don't think he could afford it. He is a new and young collector…
...the great honor it would be to own this piece from a Gentleman [Al] who gave so much to so many people in the insulator community! A dream come true would sum it up the best from someone who will probably never have a Gem like this in their minimum wage insulator budget!
Please, Please, Please, Please. I could look at it every day and be reminded of the great generosity of Ginny and yourself and the memory of Al. Thank You, Thank You, Thank You, Thank You
What a privilege it would be to accept the 162 from you personally. I have not had the pleasure of meeting you nor the opportunity to make the springfield or national shows. What a great sport this is and I'm a Proud ICON member.

I'd like the cobalt signal because I collect bright colours and I don't have a signal with that embossing.
Even though I don't really collect insulators any more it would be a nice memory of a fellow I once knew and go with the peacock color I have had for many years.
I have a great story to convey to you--win, lose, or simply priceless memory for me. First of all, let me inform you that I have spoken personally with the individual mentioned herein and she authorized me writing you and this over the Internet or to all of ICON members for that matter…Approximately three years ago, I spoke with a young female adult [client] about my hobby of collecting insulators, and how I used to climb poles to get the insulators at a very young age. She seemed fascinated by my story and the hobby itself. Soon thereafter, she was diagnosed with [an ailment] that she continues to survive and defeat to this day. She is an extremely bubbly, energetic individual whose medical illness steered her into registered nursing school (presently, she's in her last year or so) to help others less fortunate than her. Additionally, she holds down a part-time job to help with school expenses and fulfill her dreams. A few months ago, she came to the office with a sack to give to me and excitedly explained to my staff and me about her hiking vacation out West. She spotted a line going to an observation post with insulators on poles, climbed the poles, and retrieved a light green Hemingray toll, an aqua Hemi-9, and two Hemingray aqua 12's. Each insulator was carefully wrapped in newspapers, and she dramatically used her hands and facial expressions as she told her story about her hunt. She exclaimed, "All the easy ones were already gone, these were way up there and really hard to get--I climbed up there with my bare hands to get them !". Since then, I have given her a forest green Hemi signal as a token of my appreciation for her gesture to give me the aforementioned insulators. She proudly displays the signal in her windowsill. Undoubtedly, she is hooked and told me her future vacations certainly will include time for insulator hunting. She told me she would love to have this cobalt insulator for her collection. Should I win this cobalt signal, I will give it to her with its history of exactly how and why she is now the proud owner of such a very special piece of glass. Given the overall scenario thus far of this insulator, I truly think Al, Ginny, Bill, and you would love this young lady to have it.
Many years ago when I was but a tyke... ahhhhh heck I just like the colour, since it's a gift now I won't be selling it in the future…that's how I do my gifts as well now I ask that they not resell the pieces, but they can trade them if they like... Got a box full of freebies minus shipping, going out to another fairly new young collector…on Monday.
I've put together a pretty varied collection in my four years in the hobby. Lots of styles and colors but nothing in cobalt blue. I've told more than one person that the only way I'll ever get a cobalt blue (even a banged-up one) is if someone GIVES me one…
I am so excited about your kind offer to give the blue signal to a deserving member. I don't want to sound too pathetic but I am a disabled 45 year old man with an inoperable [ailment] that causes chronic pain that doesn't allow me to work. But I am fortunate to have the best wife in the world. She has been very understanding, helpful and came appreciate the beauty of my hobby When she asked me what I wanted for Christmas I said "nothing" not wanting to create any more pressure on her than she already has, I said "I already have the best wife in the world what else could I want". But that wasn't good enough for her, so she bugged & bugged me until I finally relented and since I have been an ICON member for the last 3 years and had been unable to make a contribution. I showed her the information on the raffle and she sent $30.00 to Bill and gave me 8 raffle tickets for Christmas. We didn't win but I felt good knowing that we had contributed to the cause. She doesn't know about the re-raffle and would crap her drawers if she came home one day and I had that little blue beauty in my hand. Thanks for your consideration.
I'll be surprised if you haven't had 200 responses already with this message: If I won the cobalt signal I'd donate it to the CJOW benefit auction. Howard and Linda contribute a vital part to this insulator hobby and are not proportionately rewarded. We all want to see color printing continue in this fine magazine.
Oh, the stories that insulator could tell. I rarely look at my collection from a monetary standpoint...and when I do it is for a relative assessment of rarity, not desirability. I enjoy insulators with history and character. Being from the Way collection, this insulator would seem to fit the bill. Alas, as I save up money for college, most insulators of its beauty are beyond my reach. In short, this insulator's inherent beauty and "story" intrigue me. If I were to own it, I would be interested in its provenance prior to being in Mr. Al Way's collection (if possible).
A cobalt blue signal insulator is one of the more sought after insulators and winning it would be special for any insulator collector. However, for me the insulator would be very special as it would complement the signals that I inherited from an electric lineman… who passed away about 11 years ago. I worked with… about 20 years ago and his wife gave me a number of signal insulators, none of which are cobalt blue. In tribute to…I am currently building a lighting scheme for the insulators…
I have been collecting insulators since I was about 11 years old and I still have in my collection a few pieces I acquired over the years from collectors who are no longer living. When I see these pieces on display, I'll think of those seemingly trivial encounters at a show and how the actions and stewardship of the individual nurtured and encouraged my collecting which continues and thrives to this day. I can't honestly say I knew Al Way but I knew his presence at a show. Sadly, I know more of his collecting in his passing then when I had the opportunity to ask him about it. This piece would hold a special spot in my collection as a reminder not of those who I had the chance to talk to but those that I never got around to and wished I had.
I would like to submit in this raffle for my son …He is 4 and has about 30 insulators of his own including an ice aqua "other patent" mickey. He loves the insulator shows and I know that he would be absolutely thrilled to have this in his collection. Obviously I would be the custodian of it and it would be kept in my cabinet until he got a bit older to understand it's historical value and actual collectors value…this piece is not for resale but would be for him.
I have a modest collection of insulators. By far the most expensive insulator I own happens to be....a cobalt Hemi. But if one is good in a collection, then two has got to be twice as good! Maybe if I had two of these, I could put them in a dark closet and they would reproduce. It's just a long shot, I haven't had the chance to try this.
My husband, _____, and I started collecting this passed year. We attended our first show - Springfield - what an unbelievable experience!!!! We are going back every year!! If I am fortunate enough to win the raffle I would love to be able to give my husband an unbelievable gift of glass for his birthday...It would blow him away!
If I had it, it would really enhance my window sill (I've never had the chance to own a Colorful signal because I'm only 16). So, Dwayne, who ever you choose, I hope they have what they wanted and that it enhances their collection.
Do I need this signal......not really. Would it look good in my collection.....absolutely! My insulator collection is dynamic in that some of it constantly changes. My interests are varied. Not destined to be a super collection, but always bringing a smile to me. But some things will never leave my shelf as these are my favorites. They are valuable in that I can put an insulator hunt with a specific piece.....or the item is associated with the previous owner. The McMicking with the huge graphite bubble…A wooden EC&M "replacement" piece that my wife and I drove all night to get…A cool porcelain multipart from the UP... A Pyrex CD122 with a black string of goop in it that was found on a hunt...These (and others) pieces will never leave my collection. They are the reminders that the real Crown Jewels are the people of the hobby and the time that we get to spend with them adds to our life. When I look around my insulator room I see the past, the present and the future of the insulator hobby. That is when the smile comes to my face. That's my story........and I'm sticking to it. :-)
I can't really think of any reason that would make me more deserving than any other collector to have it, but I would certainly appreciate it as much as anyone…I would absolutely love to add this awesome cobalt signal to my collection….it would be a dream come true, because for years I have longed to have one of those magnificent jewels…..one that I can hold and admire and gaze at every day! When I started collecting several years ago and found Al and Ginny Way's remarkable website, I was amazed at the awesomeness of all those gorgeous colorful signals…..especially the cobalt ones!….but alas, I still don't have a sweet cobalt beauty in my collection because, like my insulator collector buddy has told me…."you're just a hard working country gal with champagne tastes on a beer drinker's pocket book"…and I would certainly appreciate that dazzling cobalt signal as the champagne of the insulator world! "
When I bought my first insulators 4 1/2 years ago, one was a CD162, they were my favorite. Now meeting and making friends is the best part of collecting, never had the pleasure of meeting Al but wished I could have. I am a collector of friends and glass and would NOT sell the cobalt 162.
I thank you very much for this opportunity to try and get this insulator for a friend that just started collecting last year....I am pleading on his behalf without his knowledge and here is the story why. ____is so excited over insulator collecting. He has that "new guy in the hobby" air about him. You know the type. The ones whose eyes bug out at even finding a worthless, chipped 154 Whitall Tatum on the ground. … I decided to call him one day and get him out of the house to go walk that line as I knew there was some glass still on the ground. I figured he would have a ball doing that. Needless to say... he jumped at the opportunity and off we went. I was finding myself pointing to glass in the distance that was shining in the sun and obviously still up on an arm. [He] was straining to see it but he claimed he could eventually see what I was looking at. Anyway... we plodded along toward that "gem" that was shining back at us. [He] fell 3 times in our attempt to get to it. We finally decided to give up…We had a ball that day… We did manage to find a couple of small porcelain pieces for [his] new collection and he was as thrilled as the day was long… It has been a pretty neat friendship and I am SO grateful that I met him. I don't trust folks too easily anymore but ____ I can trust with my life. You see... I have learned that [he]e has MS. I was not aware that he could not see well at all. He hid that very, very well. I was also not aware that he can hardly lift his right leg. That part I knew but hey... most of us have a little gimp in our gitty-up-go, right? I never thought much of that until that day on the railroad. He fell 3 times because he couldn't lift his leg high enough and tripped on the stuff that you and I walk over and never think twice about. Nothing stops [him] though. He still plods along and wants to be a part of the "hunt".... the "thrill" of it all. … That special glass that consumes the soul of every one of us collectors. It has a magic about it that one cannot explain.... just like the friendship I now have with a person that was a complete stranger to me just a year ago. [He] would display this piece and never sell it. I know that in my heart. It's just a given. He cannot afford to ever buy something like that so I know it would be the top piece in his collection and nothing would ever top it... I'm sure of that. Thank you for reading my letter. I hope it finds a place in the running. You have no idea how much I would love for him to receive this piece…
I started collecting insulators when I was seven, and quit when I started college in 1984. Even though I had collected for several years, all that I had were common insulators. I had never even seen a cobalt signal ( or any other color besides aqua or clear ) until just the last three years. In the last few years I have been actively building my collection and adding insulators that I never knew existed. If I was to win this cobalt signal I would place it on my top shelf were I would it would be proudly displayed. I really love this hobby, and am so thankful for ICON… This is truly a great hobby.
---
Some amazing stories. Gives you a feeling for how passionate some of the members are for the hobby.
Remember, the drawing for the one winner is Wednesday, January 23, 2008. Watch ICON and the web site for the latest updates!

Return to the ICON Raffle page
---
Written Tuesday, January 22, 2008