"END OF AN ERA"
This fantastic original painting by Alan (BIG AL) Riegler will be raffled off. Al painted this unique picture to give to me to raffle off to raise money for ICON. . For your ICON donations, you will get raffle tickets. The painting is acrylic on canvas and professionally framed with an estimated value of $500. The canvas size is 18 " x 24" and the frame is 24" x 30". I was amazed when I saw this in person... The detail, the scene, the history... Incredible! What a "go-with" for your insulator collection!
The painting depicts work being done on the last open wire build in the Pacific Telephone Co. in 1973. Included in the raffle is a description by Alan of the scene and what the people are doing from a linemen's point of view, and a write up of the history of this line by Denny Hackthorne. Each of these are their own personal first hand stories. These write-ups will also be framed, and are part of the raffle. In 1963 Denny was placing the second arm on the line and wire on pins 3 and 4 on the existing line from Needles to Goffs California. He wrote in part ...
... Ten years later, Alan Riegler, (BIG AL), made the same trip, placing 33 miles of open wire from Needles to Goffs on the very arms that I placed. The painting that you see was painted by Alan from a picture that was taken on that job ...

Needles to Goffs - 33 Miles of Open Wire is the full account of this write-up.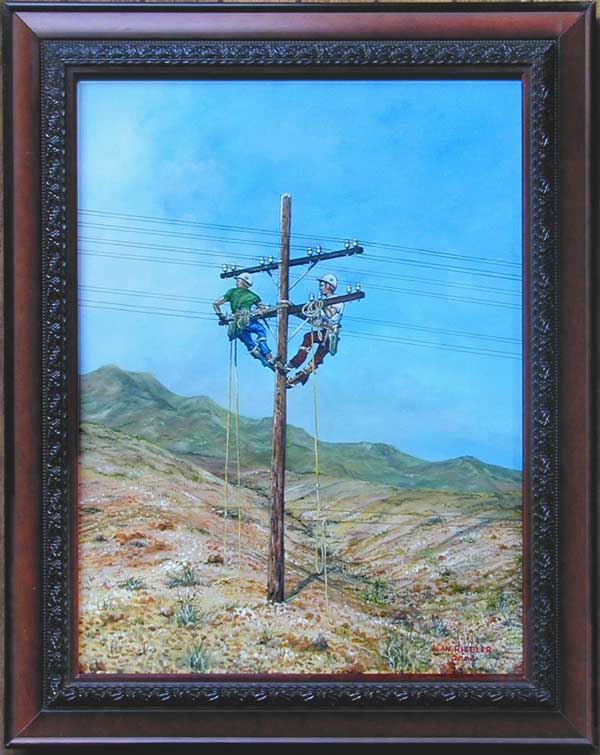 Look at the stunning detail: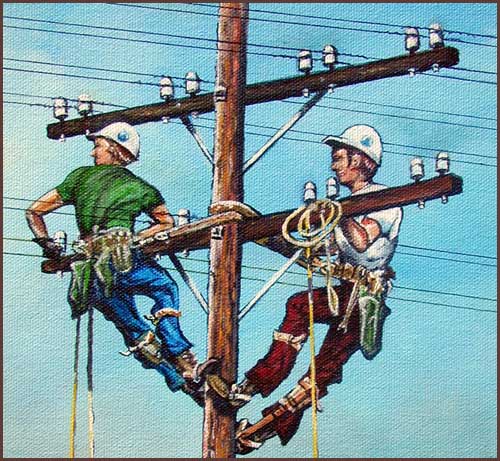 But Wait, There's More!
The painting also comes with a professionally matted and framed two page description of the history of the line and Denny's and Al's personal contributions to it. Another unique "one of a kind" item that is included with the painting. The outside dimensions of the frame are 23" x 19".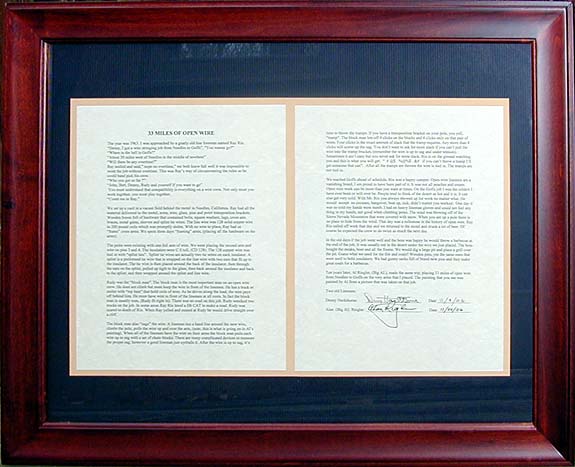 The document is also personally signed by each of them

You can read the write-up of Denny's account at Needles to Goffs - 33 Miles of Open Wire
---
If you have questions or comments, please use this Feedback Form.

Return to the ICON home page
---
Written Tuesday, October 24, 2006; updated Tuesday, December 5, 2006