2009 National Show Hosts Commemoratives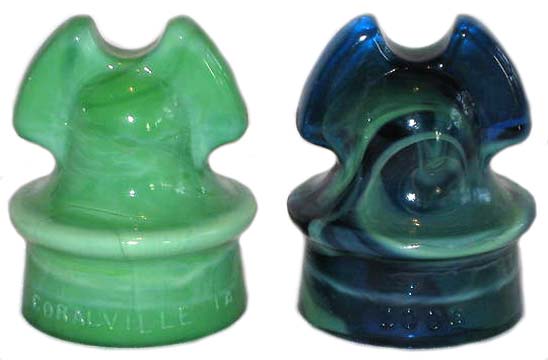 Special show insulators for the 2009 National Insulator Show in Coralville, IA are now available. There are two colors - jade green and jade green/dark blue slag. Size: 1 1/2" x 2 3/8" (a half size CD 259). Embossing: Coralville, IA // 2009 . These are made by Wilkerson Glass and are NIA approved.
A pair (one of each color) can be delivered to your home for $30 ppd. If interested in singles - the price is $15 each for the jade green and $18 each for the jade/dark blue slag plus postage of $5 for one or two.
Make checks payable to:
2009 National Insulator Show
Mail to:
Dennis Weber
3609 Jackson St. Dept WWW
St. Joseph, MO 64507
Questions:
816-364-1312
dennisrweber@aol.com

Return to the Commemorative and Miniature Insulators page
---
If you have questions or comments, please use this Feedback Form.
Updated Friday, April 24, 2009