"Canada 2000" -- CD 726 in Red!
Sold Out!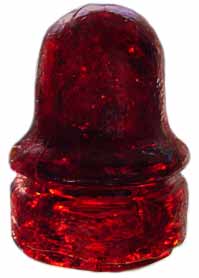 Well, folks, I have finally managed to make a red commemorative. It is a selenium/cadmium red. There are lots of problems with trying to get this color to not burn away, but my new electric furnace seems to be the ideal environment for maintaining color stability. The only drawback with this type of red is that the areas that cool the quickest move from red to a "hot" vibrant orange. The commemoratives don't really have this problem, as they are fairly thick on the base. The red also goes slightly opaque in contact with oxides, so the area of glass touching my rusty (iron oxide) ladle has this feature. This area of the glass usually gets trapped in the middle of the dome, so on lots of these pieces, there is a darker red cloud in the middle of the domes.
Base embossed "CANADA 2000"and no pin hole provides full dome glass. Take a look at more Canadian 2000 commemoratives and how they are made.

Return to the Commemorative and Miniature Insulators page
---
Please send your questions and comments to Mark Lauckner at
Written Tuesday, February 20, 2001; Updated: Thursday, December 20, 2001