Display highlights at London's Central Regional Show...
Visiting Hemingray Country
Click on the thumbnail to see a full sized image.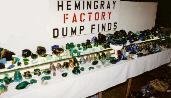 Hemingray Factory Dump Finds by Roger Lucas and Darin Cochran

Hemingray University Freshman Class by Bill and Jill Meier

Hemingray Patents by Bob Stahr
---

Return to the Crown Jewels of the Wire photographs
---
If you have questions or comments, please use this Feedback Form.
Last updated Sunday, November 19, 1995