[ Home | What's New | Articles ]
Span Wire Insulators
This is an excerpt from the 1907 Western Electric catalog showing Span Wire Insulators.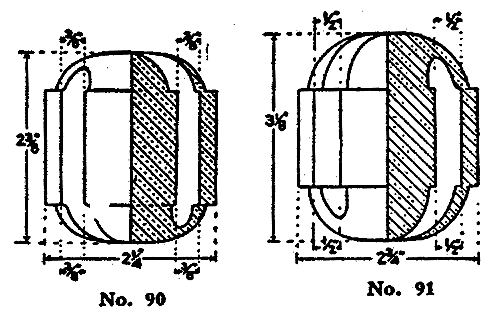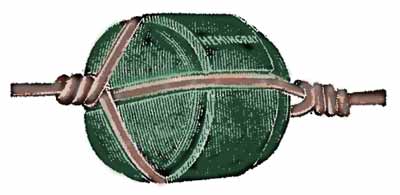 Fact sheet:
List
No.
Mfr.
No,
Description
Crushing
Strength
Diam.
Groove
Weight
Each
Wt. per 1000
Packed
Std. Pkg.
Quantity
700203
700204
90
91
Span wire (Old No. 10)
Span wire (Old No. 15)
4912 lbs.
5910 lbs.
3/8 in.
1/2 in.
11 ozs.
17 1/2 ozs.
720 lbs.
1250 lbs.
500
200
Today #90 is assigned CD 1138 and #91 CD 1140. Both of these insulators were made by Hemingray and Brookfield and these in catalogs from about 1900 to 1920. They are all unembossed, despite the apparent embossing on the item above, which is recolored from the original black and white copy. The Brookfield catalog of 1912 called these "Circuit Breaker Insulators". They are also known as guy strains and "Johnny Balls" (the later a nickname used in the insulator hobby)
Catalog pages courtesy of Elton Gish and the IRS.

Return to the Research Articles page
---
If you have questions or comments, please use this Feedback Form.
Last updated Sunday, February 16, 2003