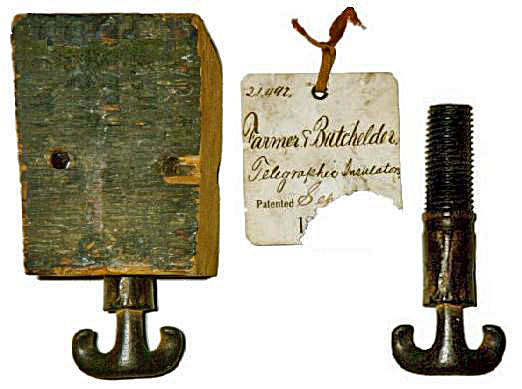 Up to 5" high by 1" diameter or greater
Farmer and Batchelder's Patent
September 14, 1858
This specimen is the original U. S. Patent Office model with the patent tag. The insulator is solid Goodyear's Patent rubber with "CONDAM CO." and "GOODYEAR'S PATENT 1851" incusely marked in the wide, shallow groove directly below the threads. The marking is very rare and possibly unique. The solid style skirt is also rare.
The insulator was patented by Moses Farmer and John Batchelder on Sept. 14, 1858 and is the third oldest telegraph insulator patent for which specimens are known.
The "wood block ramshorn" style found widespread usage in the Western United States and was marketed in catalogs up to the turn of the century.
Return to the Early Telegraph Insulators page
---
Written Sunday, January 19, 1997; updated Tuesday, February 21, 2012