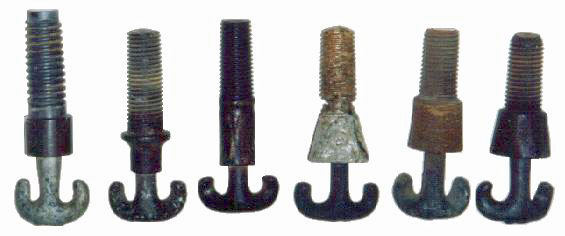 5" high by 2" diameter
Ramshorn Styles
1860's - 1890's
These six specimens represent a broad cross section of ramshorns encased in hard rubber or an asbestos compound (4th piece from left). The asbestos style is very rare.
Item 1 is embossed on the wide part of the skirt: "Goodyear's/Patent 1861."
The original Patent Office Model, the third piece from the left, is embossed "CONDAM CO. GOODYEAR'S PATENT 1851". The embossing is located in bottom of the wide groove directly below the threads.
None of the other pieces are marked but some other specimens actually have the words "Goodyear's Patent, May 6, 1851" embossed on the wide part of the first thread! How did they do that?
The first three pieces from the left all have solid rubber skirts while the last three have flared, hollow skirts.
These pieces were used in single blocks while others were used in crossarms. The rubber covered hooks were marketed in catalogs up to the turn of the century.
Return to the Early Telegraph Insulators page
---
Written Sunday, January 19, 1997; updated Tuesday, February 21, 2012