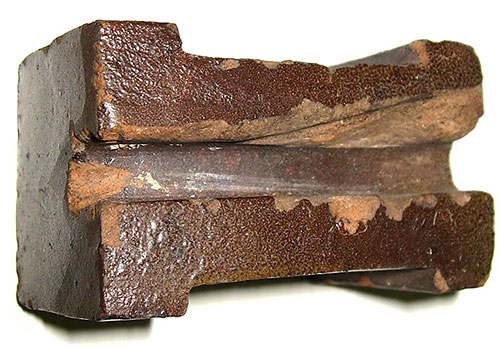 2 3/4" long by 1 5/8" wide
Porcelain (Fire brick) Block
1858
This style of "fire brick" porcelain block was used on the Placerville & Humboldt Telegraph Company line from Placerville, CA to Humboldt, NV which was erected in 1858. The line later was extended incrementally to Salt Lake City (when it became the Placerville, Humboldt, and Salt Lake Telegraph Company) and ultimately became a link in the transcontinental telegraph. The line was abandoned in 1888.
The insulator was manufactured by the Pacific Pottery of Sacramento, which was started in 1856. The company initially was engaged in the making of brick and sewer pipe.
Only a handful of specimens of this block survive with even fewer of the wooden brackets. It probably belongs in the category of very rare.
The block measures slightly over 2.75" in length, and 1.675" tall and deep. As seen in the photos, above, the line wire actually wore away part of this particular specimen.
Return to the Early Telegraph Insulators page
---
Written Sunday, January 19, 1997; updated Tuesday, February 21, 2012