SUMMARY OF SECTIONS:
"Well, I'm on my way to the 28th National Insulator show ... my 20th. I'm going to take the back roads so I can get a taste of the Midwest. After all, that's part of traveling to the different regions. I'm no stranger to this area. This year's show is just five hours from home. I'm just as excited about it as my first National in Kansas City. What am I gonna find? Who am I gonna see? What will the displays look like?
I always reflect on the past Nationals I've attended. Some of the remembrances are so mundane and really don't involve the show but the trip. I suspect the show will fly by and I may cover three-quarters of it. I'm gonna make a point to look over each and every display Sunday morning when it's a little slow.
I'm also gonna pick up a nice CD 131 concave Brookfield. I always wanted a mint one. I'd like to pick up a nice American pony. I found one a long while back on a line in Sandusky, Ohio. In the process of removing the tie wire, I broke the skirt. I'm not gonna take many photos, most of them just reside in a shoe box afterwards ... and only I may remember where/when they were taken ... or who's making that goofy face. I'm gonna wear my name tag and I hope everyone else does to. Remembering names is not one of my strong points. Many of us will have gotten younger and have lost weight since the last National.
I'm gonna buy some color pieces for resale. I've got a vehicle so I can load up this year. The Nationals are the best place to buy low and medium priced resale items. I bought 65 mixed CD 190/191s at Denver. I managed to make 22 whole insulators on a $20 investment. I just recently unloaded the odd tops and bottoms.
Let the fun begin ... " -- Jack Snyder
The Crown Jewels of the Wire sales tables were just inside the entrance doors. I observed a lot of what came and went on at the National Show. Over 300 people came and went through the doors. They picked up literature about insulator collecting, flyers for upcoming shows and they spied the six foot table ladened with "FREE INSULATORS." (They'll be back to check that table out!) Over 200 people who had sales tables and displays and "friends of the family" who helped them behind their tables were already inside the show hall when doors were opened. The hall was enormous, the aisles wide and people were everywhere.
With 162 sales tables laden with insulators, lightning rod balls, weathervanes and insulator go-withs, there had to be something for every type of collector. A Chicago show could not be held without Mickey Mouses being sold "by the bucket." You buy, you clean them, but the price was right ... $60 a pail.
I saw a gentleman with a glass Cutter (Scott Cutter's hometown was Oswego, Illinois -- about 60 miles southwest of Chicago) enter the show and leave the show in less than ten minutes folding the cash realized.
Some known purchases made:
CD 145 H.G.CO., a true yellow, yellow amber
CD 131.8 A very tough Paisley CD to acquire
CD 244 Cross Top Pomona in purple
CD 126 Dome embossed Brookfield blobtop in dark purple
CD 134 Westinghouse No. 6 in peacock blue
CD 162 S.S.& Co. Mfg./Chicago in light olive green
CD 126 RD 149959
CD 100.6 No embossing Hemingray piece in clear
CD 122 Hemingray-16 in white milk glass
CD 162 H.G.CO. with a smooth base in purple
A Johns-Manville porcelain power piece sold from our table. (Who says Porcelain doesn't sell?)
And, there were Civil War, handmade by slaves porcelain teapots and blocks from the Southern Porcelain Company on the table of Dick Bowman. Porcelain, glass and threadless sold in "buy the table lots" through a silent auction at Eldon Myers' tables.
Historic porcelain from the collection of Keith Neal was selling well on the table of Marilyn Albers. And a wide assortment of French insulators sold rapidly from the table of Bernie Warren.
There was no stopping the sale of CD 162 Hemingray and H.G.Co. signals. Color with some damage was a seller's market in Chicago.
I saw an entire table of National Show Commemoratives from back years sell at the show. Radio strains, capacitor bushings, lightning arrestors, composition insulators were carried off in about a ten minute period by a lot of happy go-with collectors.
I don't believe lightning rod balls sold very well at the show. There were plenty of good items for sale, but the lightning rod collectors have their special insulator and bottle shows that they frequent and another show may have been too many in one year.
A major insulator dealer left his check book on our sales table. I could have auctioned that little piece of leather and its 3" x 7" pad of checks for a handsome sum! Everyone at the table was willing to bid on it. But, I returned it to its rightful owner before he realized he had lost it. I had already had my fun with it!
And, once an attending collector's budget was met, there were the FREE INSULATORS on the table at the front door. Over 500 insulators were given away from that table during the weekend.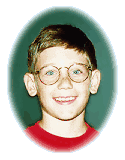 And, I saw Eric Heinze, 8 years old, from Lake Orion, Michigan again. We had met in Ann Arbor last fall. His comment about the National was the way I think many of us felt:
"I've waited my WHOLE life for THIS show!"
In addition to the largest number of sales tables, there were twenty quality displays that presented a wide variety of insulator topics.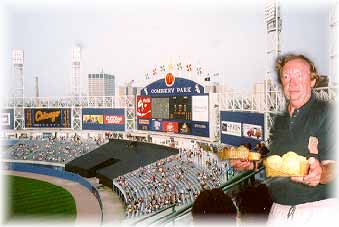 Chicago was a great place for a National Show. Some collectors took the opportunity to sightsee in a beautiful city, some went to museums and amusement attractions, and some enjoyed "America's summer pastime" -- the Chicago Cubs and the White Sox. Jack "Fastest Nachos in the West Grandstand" Riesselman enjoyed an evening at the ballpark with some of the other baseball / insulator collector fans at Comiskey Park.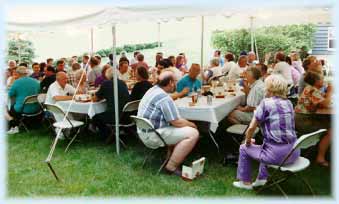 And, it was Chicago's warmest day all summer when the closing bell was heard at 3:00 p.m. on Sunday afternoon. But, still, there were those who stayed an extra day to drive to St. Charles to the home of John and Carol McDougald (aka Crown Jewels of the Wire office). Over 90 folks enjoyed a Sunday night box supper in the backyard and shared insulator stories until late in the evening.

Paul McFadden, editor of Telephone Collectors International newsletter Singing Wires, wrote the following after attending the show: "Telephone collectors and insulator collectors are not cut from the same mold. In a nutshell: Telephone collectors, many apparently "Type A" individuals, have a two day show that lasts no more that 24 hours for them. It's a handshake hello and then a wave good-bye. Usually there will be no more than five collectors still in the room at the show's closing. The insulator collectors are a more display oriented and homogenous group. They have a three day show and stick around for all of that three day show. It's almost as though they enjoy each others companionship and displays. Could that be possible?"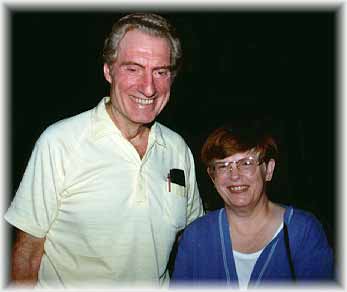 And Dan and Sandy Raber of Decatur, Illinois stopped by our table at the close of the show. "Thank you for the weekend. Everyone was so helpful and professional. They even ushered us around to other sales tables in order to be helpful."
Chicago -

Your Kind of Town
Your editor is grateful for the written materials made available by the various displayers at the National Show. It helped greatly in giving descriptions of your display and I know the readers appreciate the time involved in sharing your collections with those in attendance and those reading this magazine. Thank you.
Carol McDougald
Editor, Crown Jewels of the Wire

Return to the Show Reports page
---
Last updated Saturday, October 4, 1997