A Farmer's Old Telephone Line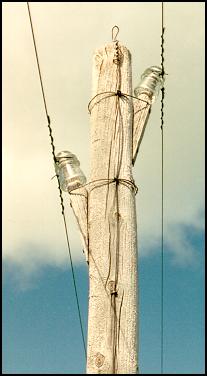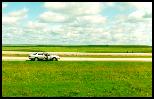 We were driving home from the 1993 Denver National, and passing through the Midwest. The land was flat, and fields of grass were everywhere. No signs of life except for this four lane Interstate. The driving was easy, so we enjoyed the scenery.
From the car, I spotted what looked like telephone poles, except they were just out in this open field. I pulled the car off the road, and had to take a look. I could see fences zigzagging across the flat landscape for miles. Every fifth fence pole was about 4 feet higher than the others, and had these two side pins nailed to it. I could almost reach up and touch the insulators! The insulators were CD 122 Hemingray-17's in clear; a recent production of insulators made in the 1950's and 1960's.
What was fascinating was that this fence served an additional purpose; it also provided "telephone poles" for a pair of wires that ran off into the horizon. The line appeared in service, and I could imagine a farmer's phone at the end of fence!
If you look closely, you can also see a ground wire running from the top of the pole, and around the side pins, and down the center of the pole to the ground. You can also see the small loop projecting above the top of the pole. Was this to act as sort of a lightning rod? I don't know...


Return to the Insulators in Service page
---
If you have questions or comments, please use this Feedback Form.
Last updated Monday, January 8, 1996