Locke #16's
By James Woodman Brown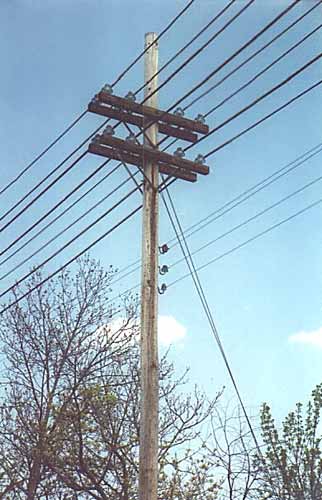 The line is owned by SAPPI (South African Pulp and Paper Co.) in Westbrook Maine, and runs along the Presumpscot River from the Sacarappa falls hydro dam about one and one quarter miles to the mill complex. The S D Warren paper company (just recently bought by SAPPI) has owned the operating rights to most of the small hydro dams on the Presumpscot since before the first World War, and the glass on this line dates from the that period even though the structures were upgraded in the '60's. This is the only power (as opposed to signal or communication) line still on glass to my knowledge anywhere in southern Maine, as Central Maine Power was one of the early "porcelain god" converts and even the few remaining REA distribution lines from the '30s are all "mud". The power glass are Locke #16's. The three lines below are open wire signal and control lines for the gates and turbine at the dam.

Return to the Insulators in Service page
---
If you have questions or comments, please use this Feedback Form.
Last updated Saturday, August 5, 2000