Old Folsom Powerhouse
By David Waters
I happened to drop in at the Old Folsom Powerhouse in Folsom, CA (near Sacramento) and found some neat old electrical gear.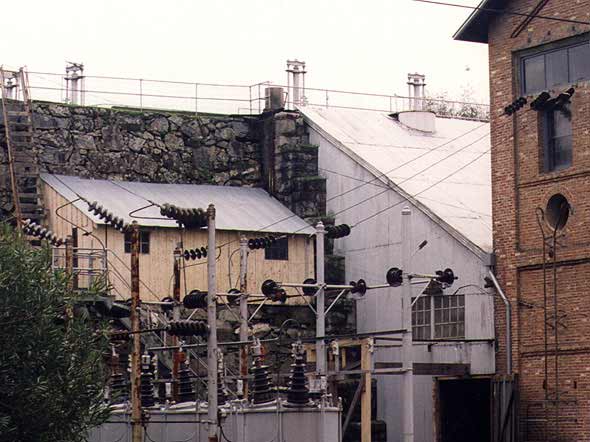 The forebay is the stone structure in the background, the penstocks are in the silver building, and the generators are in the brick building at right. Lotta porcelain in that yard!
The Folsom power plant on the American River was one of the earliest long distance generating stations. The plant was put into operation on July 14, 1895 and shut down in 1958. The original 20 mile long line operated at 11,500 volts and used U-701 porcelain insulators made by General Electric. (Additional information about U-701 can be found in Ed Sewall's fine article in the January 1998 issue of Crown Jewels.) Some time later the line was upgraded to a higher voltage and the insulators replaced. The line may have been upgraded once before installation of the M-4385's which probably operate at 50-60kV.
It's now a state park and is open daily. Very neat to see. The following is a nice close shot of some of the insulators just outside the powerhouse.
(For you liberators out there - it's a California State Park - big penalties for removing the merchandise!)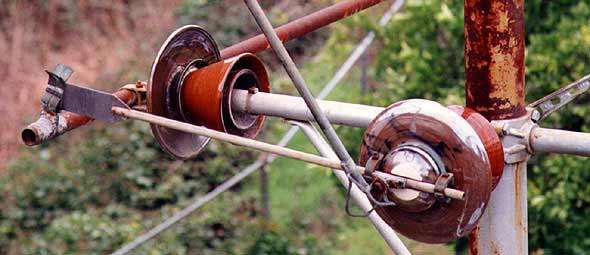 Elton Gish comments:
"I cannot be completely certain (without measurements) but the two 4-part insulators in the photograph above are more than likely M-4385 made by Ohio Brass. From the look of the orange glaze color and the recessed fourth skirt, I'm certain these insulators were made circa 1908-1915. The recessed fourth skirt was an early design feature to decrease electrical leakage and it was dropped in the late 1910's due to problems with cement expansion. Other 4-part styles with recessed fourth skirt are still in use in central California. Many have been removed over the past 5 years."
"Only one M-4385 is known in collector's hands and it is owned by Bill Rohde. He is from the Fresno area and has acquired a large number of rare multipart insulators from California as well as other parts of the country. Bill's insulator may have been used near the Folsom plant or on the line. This insulator style with short curved petticoat under the top skirt and recessed fourth skirt is a unique combination of features that you will not find in any other multipart insulator. You will not find M-4385 in my book, Multipart Porcelain Insulators, because it is a new style. It is listed in the Value Guide."

Return to the Insulators in Service page
---
If you have questions or comments, please use this Feedback Form.
Last updated Sunday, January 31, 1999