The release of the book
In Flagrante Collecto
(caught in the act of collecting)
Reporter: Bill Meier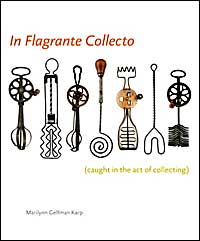 A new book "In Flagrante Collecto" has just been published that features a spread on insulators. The book contains information on over 300 collectables and has over 1,000 color photographs. Bill Meier was contacted by the author, Marilynn Gelfman Karp, who was fascinated with the color and quality of the photos she saw on www.insulators.com. She told Bill about her new book, and asked if Bill was willing to provide her with some high resolution photographs for possible inclusion in the book. Of course Bill was interested!
Bill photographed 32 colorful photos of various colors and shapes of insulators from his and his wife Jill's collection and sent them to Marilynn. In total, 18 of these were used in the book, and spread across two pages. Bill's two favorite insulators, a CD 112.4 in Golden Amber and a CD 164 HGCo in Peacock Blue were some that were included on the pages. Given that the book had 1,000 photos, that means insulators got an almost 2% photo coverage, and this is from a group of over 300 collectables. Not a bad showing...
There was a general write-up about insulators, which twice mentioned the great information on www.insulators.com. For each insulator shown, there was a footnote which included the color, Primary Embossing, CD number, approximate date of production, and the height of the insulator. Not bad information for a general collectables book. One of the insulators, a CD 257 in Electric Blue was also used on the Table of contents page about insulators. Insulators are listed in Chapter 4, "Obsolescence & The Better Mousetrap", on pages 52 and 53. 8 other collectables are included in Chapter 4.
The two page spread included these insulators on page 52, and these other insulators on page 53. These two pages created quite a colorful addition to the book, and Marilynn remarked to Bill that "he would be pleased" with the insulator presence in the book. WOW! Yes, he definitely was...
More information about the book with a more detailed write-up and a section about the author, can be found at Amazon.com, or visit the web site In Flagrante Collecto.

Return to the Insulator News page
---
If you have questions or comments, please use this Feedback Form.
Written Tuesday, May 2, 2006