CD 170.1 sells on eBay
Reporter: Bill Meier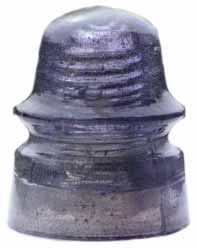 On 03/17/99 15:52:53 PST, the following was posted on eBay:
"Unusual insulator-color very pale blue or purple, depending on light. No mfg. name. Filled with tiny bubbles-probably from steam in mold. Very different piece! I CAN guarantee the following: it IS old, it IS sun-colored light purple/lavender, it is NOT cracked, scratched, but has some minor chips/rough spots on bottom. Flaw in picture on right is bubble inside glass-not chip or crack. Thanks!"
The opening bid was $9.95 with no reserve. By the last day of the auction, the price had risen to $2,500.00, and by the close of the auction, 17 bidders placed a total of 43 bids. The final closing price was $5,300.00 !!! Reportedly, only about three of these pieces are known to exist.
The seller was an insulator collector back in the late 1960's and had kept a few insulators. They were able to relate a little of the history of this piece to me:
"After jolting the old memory [of her husband], he thinks that this one was one that he saw on a pole in an alley in Chico, probably late 60's. Remembers it was with another darker purple one, and he almost didn't take it - it was pretty, but seemed odd and not so colorful. Anyway, he went ahead & replaced it with a clear glass Hemingray he carried around in his truck. After several years, he had collected some nice ones, but had other interests & decided not to be a serious collector. So he kept them around, and when we moved to Oregon in 1991, we sold off most of them, just to reduce the moving. We kept the purples and some other colors, which have been sitting in our kitchen window ever since. It was just a fluke that I picked the first one off the shelf to put on eBay, it was closest to the table where I was photographing stuff on. Sometimes, luck really is a factor!"
The final day of the auction, the seller commented:
"Anyway, today promises to be exciting! Our son & daughter-in-law are in Kentucky and are holding their breath!"
And after the sale, their comments were:
"You can bet we will pack this thing to survive nuclear bombs (as soon as we get our hearts started again)!! Are making a special shipping container. When I think of how many times I dusted this thing & almost dropped & broke it, my heart stops again!!!! Sure has been nice connecting with all the folks who e-mailed! There are a lot of really decent people out there (and some with a LOT of money)."
Quite a piece! And what a pleasant surprise for the seller!

Return to the Insulator News page
---
If you have questions or comments, please use this Feedback Form.
Written Thursday, March 25, 1999