Previously Unknown Insulator Marking Discovered!
CD 102 HGW
Reporter: Paul Rubin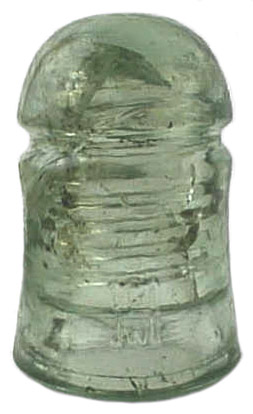 John Hall of Houston, Texas has once again made insulator history by discovering a previously unknown insulator marking. The new marking is an H with a G inset above the horizontal line of the H and a W set below the horizontal line.
The insulator is a CD 102 in light green. It is skirt embossed with the above marking. On the rear skirt is a raised glass dot. No other markings are found.
John found the insulator at the Pearland, Texas Flea Market in October. The asking price was one dollar, but due to the less than mint condition, John was able to get it for seventy five cents.
Mr. N. R. Woodward of Houston, Texas has examined the insulator in detail. He feels that the insulator is authentic, almost certainly American made, and relatively old. Beyond that he could offer no other information about the piece. At least for now it remains an exciting mystery.
Photo courtesy James Doty
February 1997 update: In the LSIC newsletter John says he believes it may have been made by Hero Glass Works, a fruit jar company that existed between 1893 and 1910.
August 2011 update: After additional research the company that most likely made this was the Houston Glass Works, Houston Texas. Additional information about this can be found in the Insulator Gazette:
Houston Glass Works.

Return to the Insulator News page
---
If you have questions or comments, please use this Feedback Form.
Written Thursday, December 12, 1996; Updated Sunday, August 28, 2011