"MR" Hemingray-42 found!
Reporter: Ron Barth & Bill Meier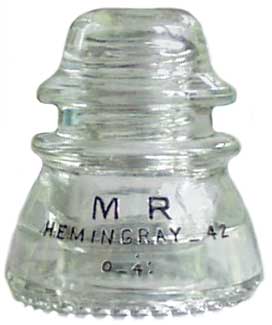 (note the embossing has been highlighted in black in the photo)
Ron reports that he got this piece from a collection in the Pittsburgh area:
"It was on the top of a collection of common pieces in a milk crate. It is mint and has slight soot as it must have been in use. I have no idea where it came from; I got it in the collection but who knows where it was used. The front code is 0 _ 4, dot above the 4 and two dots to the right vertical. Back code 33 C."
Bill Meier comments:
"Only about six or seven of these pieces are known, and most originally came out of a flea market in New Jersey a number of years ago. We have found several different mold and date codes, although this is the third one known with a mold date of 1934, a production date of 1937 and mold number 33C."

"People have speculated what the bold 3/8" tall "MR" on the front stands for. Some think maybe it was a gag done in the shop, others that it might be the name of a railroad, such as "Missouri Railroad", and others think it might stand for "Mold Reject" -- however, none of these theories have been proven, and the "MR" remains a mystery."

"Another interesting observation is that some CD 154's with the exact same mold and date code have been found without the "MR" embossed on them, indicating that this was probably added to the mold near the end of production."

"Sure, it is 'just' a Hemi-42, but what a rare and classy piece to add to your CD 154 or Hemingray collection!!"

Return to the Insulator News page
---
If you have questions or comments, please use this Feedback Form.
Written Friday, May 18, 2001