"Minsulators"
Solid Pour Miniature Insulators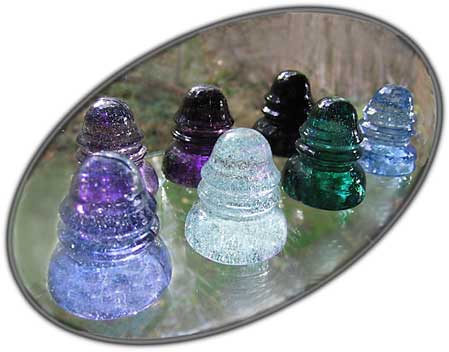 I have decided to make these solid pour miniature insulators and offer them in sets of 10 different colors. I should have them all made and ready for shipping by the end of December 2005. Sorry, I can't take PayPal yet. Visit my web site for full ordering information.
The set of 10 colors are:
clear with little fizzy bubbles
clear with colored swirl (cranberry red, opaque yellow, cobalt, or emerald green, please specify)
cornflower blue, mostly with little fizzy bubbles
icy yellow green
emerald green
light cobalt
cobalt blackglass
dark peacock blue (turquoise blue)
light purple
purple
I can also make them into drawer pulls, and cast a threaded bolt into the molten insulator.
| | |
| --- | --- |
| | You can click on the photo to get the full story with additional detailed photos showing how I made this insulators. |

Return to the Commemorative and Miniature Insulators page
---
Please send your questions and comments to Mark Lauckner at
Written Sunday, October 30, 2005