CD 740 Canadian Commemorative Insulators
Sold Out!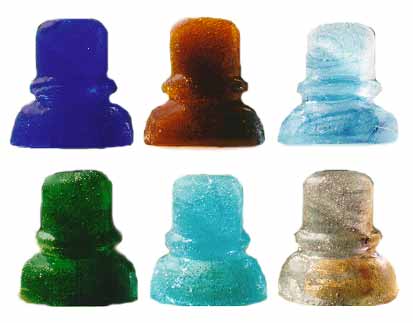 Commemorating the 140th anniversary
of the Foster Brothers glassmaking in Canada.
The Canada Glass Works was actually formed in 1845 and operated in St. Johns, Quebec. The influence of George and Charles Foster resulted in an embossed Canadian insulator produced in 1858. It is now the 140th anniversary of this shape of embossed insulator which was made in several distinct Canadian styles, mostly in blackglass. In 1880 the Fosters sold the plant to the Yuile family which ran the North American Glass Works in Montreal. William Yuile became the president of the Diamond Glass Company and systematically bought up every non-productive glass plant in Eastern Canada. Diamond became Dominion, the rest is history...
In the photo:
Top row: Cobalt Blue, Dark Orange Amber, Cornflower Blue w/ Cobalt wisps.
Bottom Row: Deep Bubbly Green, Teal Blue, Bubbly Gray w/ Cranberry swirls.
The "art" pieces will also be available this year. These are made by adding lots of colored swirl or swirls to the glass pot right before pouring into the mold. The result is somewhere between an old marble and the swirled McLaughlin commemoratives. The most popular style last year was the clear base glass with single or double colored swirls throughout. The transparent swirl colors available are: yellow, green, blue, opalescent, cranberry red; and the opaque: yellow, orange, red, blue, white and black. The maximum number of colors I can get in the pours is three.
Base embossed "CANADA GLASS WORKS 1858-1998"and no pin hole provides full dome glass. In response to concerns that these commemoratives look too realistic, they are now virtually a solid-pour, with only a small indentation in the base.

Return to the Commemorative and Miniature Insulators page
---
Please send your questions and comments to Mark Lauckner at
Written Saturday, November 21, 1998; updated Thursday, December 20, 2001