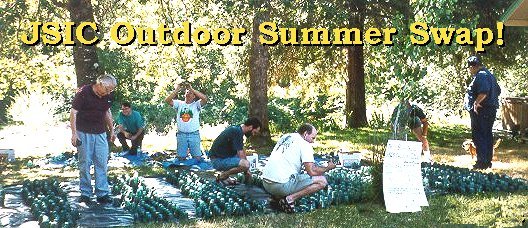 "The Boneyard"
Thank you to all 65+ of you who joined the Jefferson State Insulator Club in our Outdoor Summer Swap Meet, hosted by the Banks family.

Saturday, July 15, 2000 in Merlin (Grants Pass) Oregon.
Show Report:
Whew, it's over, and boy was it fun! Whatalotta work getting all those displays set up. We had our JSIC Fred M. Locke porcelain-dig display there, as well as Bill Ostrander's porcelain and power-piece collections. There was also a collection of insulators "native" to our region. We put up several poles full of insulators around the property. David Campbell had an utterly fantastic display of colorful EC&M's, Cal Electrics/CEW's and some threadless pieces. Howard and Linda Banks provided the BBQ dinner both Friday and Saturday evening. Paul Bryan had some of his Canadian insulators on display, and Carl Scott put up a bunch of hand-picked porcelain. Quite a few common and not-so-common insulators changed hands, including EC&M's, a green CD333 Prism, a grey M4325 and a two-tone Cal 166. John McDougald stopped by and picked up some Hemingrays from the tables and shared a few stories. Vi Brown had some great insulators for sale, having just driven down from Alaska! Mid Norris had a sales table with great insulators that included a clear McLaughlin CD115 that I hope to get from him some day. Bob Jackson and Greg Bickford (the inspiration for this show) came up from Central California. Bob had just purchased a small collection, and had many nice pieces from it at reasonable prices. Someone even came from Las Vegas all the way with a broken air-conditioner to sell some insulators. Nathan Lamkey and Tim Wood both came down from the Salem area to sell. Mark Staffelbach and Bree Long came down from Eugene for the show, and visited area antique shops the next day. Mike Parker from Portland displayed some of his grey porcelain multipart insulators. Gary Michener had some great insulators for sale, including a peacock 151, a yellow California 161, and a two-tone purple 143. His daughter Mindy had some very-well-done painted insulators too. Howard's daughter Christa and her friends Mariah, Cody and Shawna sold more in Beanie Babies than some of us sold in insulators! We were lamenting why there aren't "insulator-babies"...? Shawna drew the winning ticket for the VNM McMicking threadless, and the winner was Dave Campbell! The McMicking was donated by Howard Banks. The sun set all too early on that perfect-weather Saturday, but the show continued in Silverton on Sunday! Several tables were set up in the cooler "northern" weather. Chuck Irwin and Dan Howard both showed up, and Dan had a display of his antenna insulators. All in all a fantastic weekend.
Photos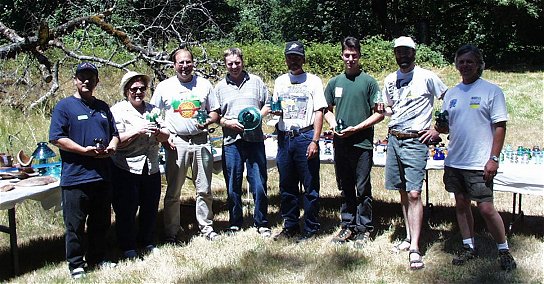 JSIC members with their treasures.
Gary Michener, Violet Brown, Bill Ostrander, Howard Banks, Mid Norris, Nathan Lamkey, Scott Morrell, Carl Scott.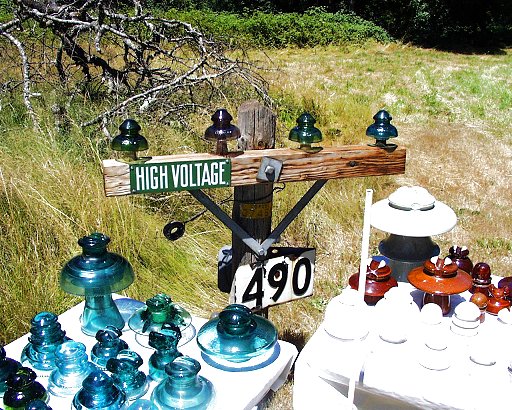 Part of the power-piece display.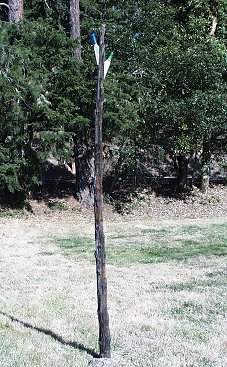 EC&M's on a cruddy-old pole. OK, so they're Impostulators...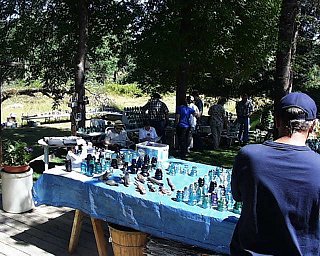 View from the deck.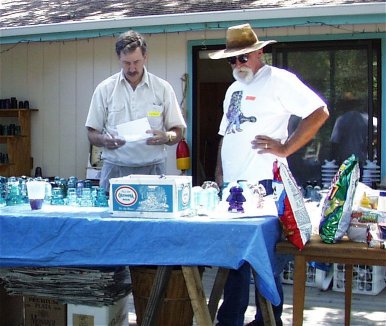 John McDougald and Dave Campbell looking at some of Dave's insulators.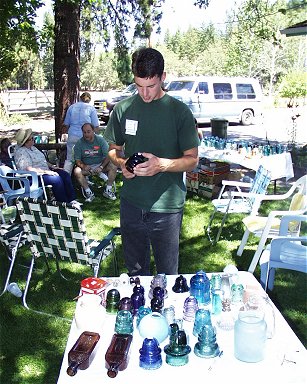 Nathan considers a CD 219 from Vi's table. That's Vi talking to Tim Wood in the background.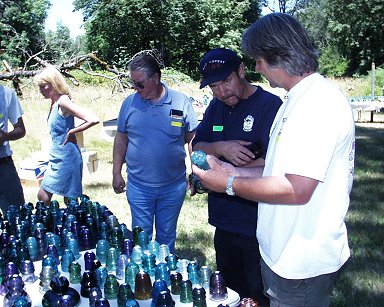 Carl looks at Gary's milky Hemingray.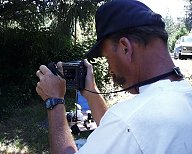 Mid videos the displays.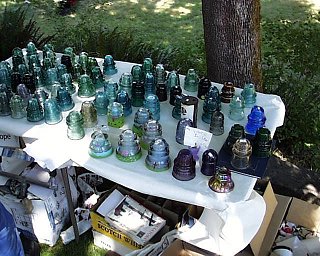 Some of the smallest tables had the best stuff on them.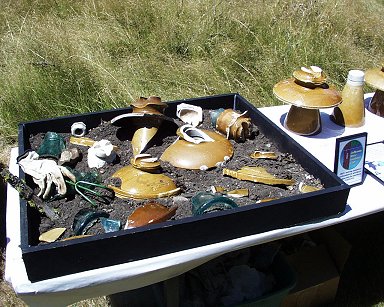 Part of the JSIC Locke Hunt display, showing our "dig".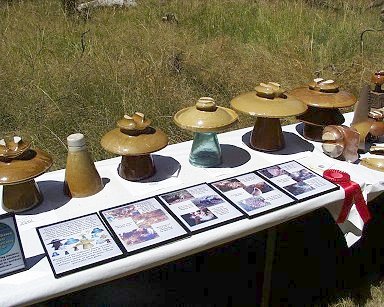 Here's some M2842D's, a M2795, a M2998 and an M4321.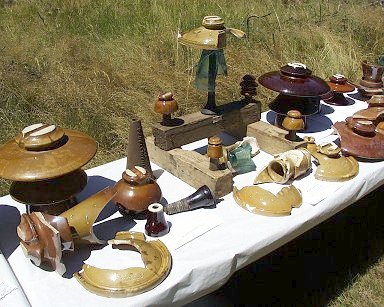 That's the best we could re-assemble on the M2795.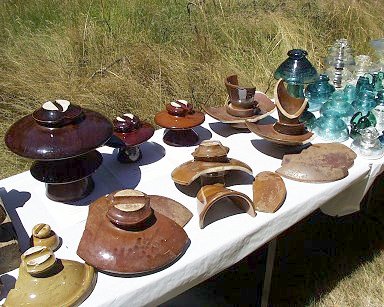 A VICTOR M4325 with fingerprints in the glaze.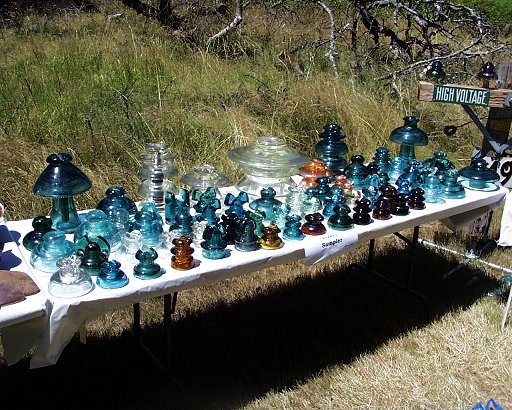 Bill Ostrander's power display.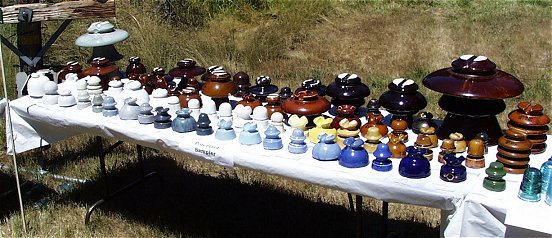 Some of Bill's porcelain.


Some insulators that have been found in JSIC territory.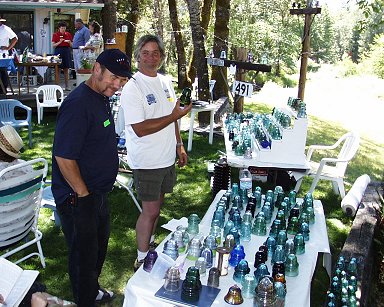 Gary and Carl admiring some insulators for sale.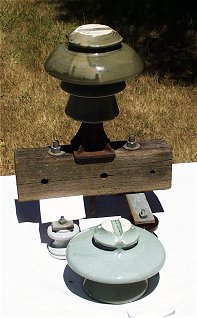 Mike Parker had some great Oregon porcelain finds.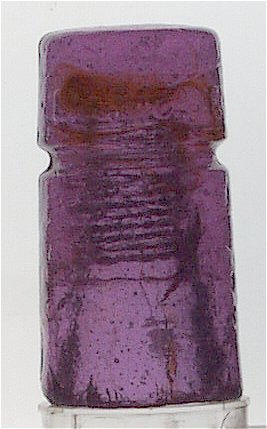 Ever see a purple EC&M? We got to hold one!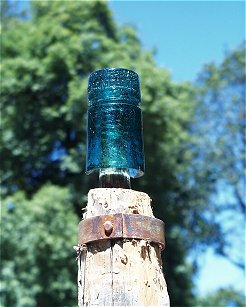 There were even EC&M's in the air!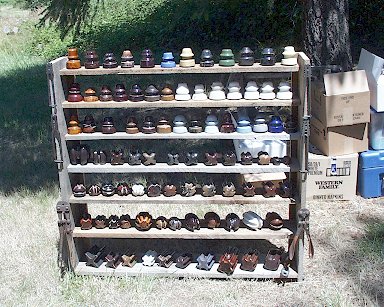 Carl Scott's hand-picked porcelain.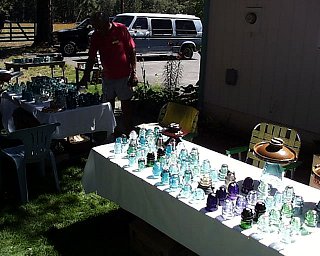 Tim Wood's table had some exciting offerings.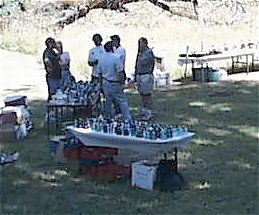 View of the lower show/display area.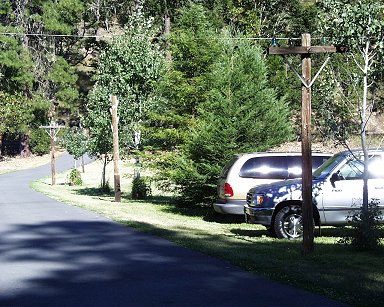 Visitors were greeted with a pole line down the driveway.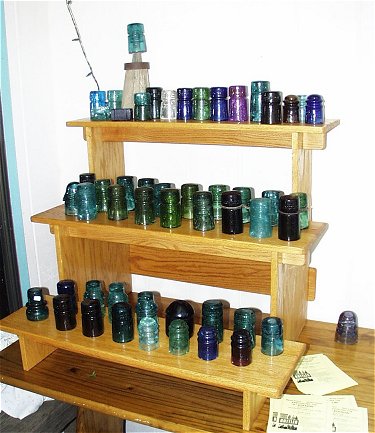 Drool!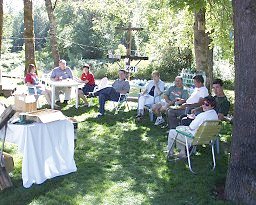 Relaxing after the show.
| | |
| --- | --- |
| | Show hosts Howard and Linda Banks |
---
For more information,