---
This month a complimentary copy of Crown Jewels of the Wire is available which contains a full color hard copy of Dwayne Anthony's "Fake & Altered Insulators Artificially Induced Colors." This material is also available on-line at the National Insulator Associations web site at www.nia.org/altered/
Click on the thumbnail to see a full sized image and a detailed description.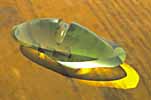 Junk Glass?

More Junk Glass?

Early Locke wall entrance tube

Fred Locke porcelain finds
---

Return to the Crown Jewels of the Wire photographs
---
If you have questions or comments, please use this Feedback Form.
Last updated Tuesday, May 10, 2000