Highlights of the 1999 National Insulator Association Convention!
Click on the thumbnail to see a full sized image and a detailed description.

The Webmaster at his ICON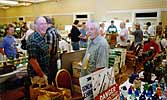 The Show Floor

The Awards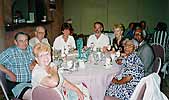 The Banquet

Happiness in Scottsdale!
---

Return to the Crown Jewels of the Wire photographs
---
If you have questions or comments, please use this Feedback Form.
Last updated Monday, August 2, 1999