Click on the thumbnail to see a full sized image and a detailed description.

Read why Stephen, Samuel and Seth Brewer's dad is so happy...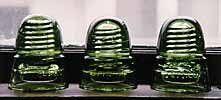 Three beautiful H.G.Co. Petticoat beehives!!!

Return to the Crown Jewels of the Wire photographs
---
If you have questions or comments, please use this Feedback Form.
Last updated Thursday, October 8, 1998