Click on the thumbnail to see a full sized image and a detailed description.
Articles:

Experience the "9 Mile Adventure" by Rob Tucker
Is it a wooden-covered threaded strain dryspot?

Insulator?

Strain?

Dryspot?
This month's PIN features several interesting multipart porcelain insulators such as a variant M-2052, M-3460 with three "blue-jean seams", a couple of early Thomas insulators with pretty glazes, an odd Thomas marking, and a new 2-part style composed of only the top and middle skirt from a M-3740. Of special note is the first report of a multipart transposition style made by Canadian Porcelain Co.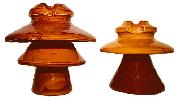 M-3230 and M-2350

M-2101 Canadian Porcelain Co. spool
---

Return to the Crown Jewels of the Wire photographs
---
If you have questions or comments, please use this Feedback Form.
Last updated Friday, July 4, 1997