A Handbook for the Recognition & Identification of
FAKE, ALTERED, and REPAIRED INSULATORS
SECTION 4 - FABRICATED INSULATORS AND FACSIMILES
There are many insulators and items appearing to be insulators which have been fabricated for uses other than commercial insulator applications. The results of these efforts are usually clearly marked, represented, and identifiable as such. In a few isolated instances, some pieces have been fabricated to intentionally appear to be a real insulator.
The specimens which are openly manufactured as facsimiles include special, private issues for the purpose of profit such as the LSV threadless Columbia series, and miniatures such as Hemi-19's, Holly-City, etc. Other facsimiles are made to commemorate certain events or other purposes such as the NIA annual conventions, Telephone Pioneers, and Human Services and the Cobalt and Ruby Red "VTS" Industrial ponies. Still yet, some miniatures were made by the insulator manufacturers as promotional samples. Some of these miniatures have been reproduced and care must be taken to distinguish between the real and reproduced specimens, usually by checking the level of detail between the two. Also in circulation is a variety of CD 102 pony style threaded pieces made in the late 1960's or early 1970's which may appear to be authentic but which are not. Most specimens are amber, with some cobalt examples in circulation, all of which are characterized by a very coarse, dull finish, distorted shape, and irregular threads. These pieces are particularly crude and easy to spot. In the past decade, a number of other pieces have surfaced which resemble both known and unknown CD specimens but which are highly suspect. This includes a variety of pieces in known CD numbers which were made of colors which were previously unheard of. Unfortunately, there is no reliable, conclusive, scientific method to fully prove that the pieces are not authentic. Nonetheless, extreme caution must be exercised as such specimens are so well made as to closely resemble authentic items.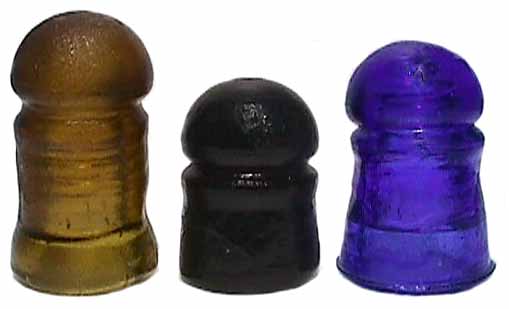 Fabricated "Ponies"
Additionally, a number of "gag" 'insulators' have also been made in a wide variety of styles and materials. A large number of copies of insulators have been recently manufactured in resins of extreme colors. Some are quite bizarre and amusing. If you see an unusual piece and color which does not appear in any publication, consider the possibility that it may not be authentic. Of course another clue is that these resin pieces are very lightweight compared to glass pieces. With the presence of real production plastic insulators, however, one might be misled to believe that these were actual production pieces.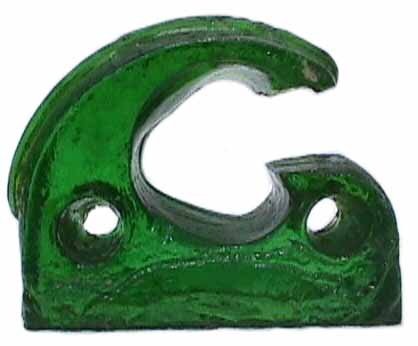 This piece is a full sized resin replica of the Cutter tree insulator.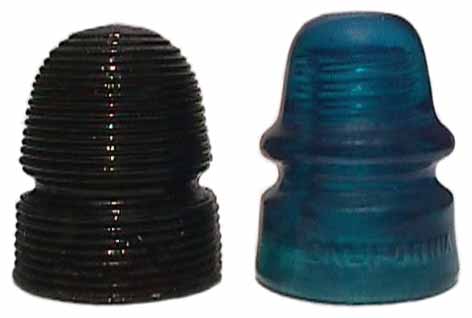 These pieces are also made of resin and represent a CD 143 No Name in deep purple and a CD 161 California in peacock blue, both of which are unlisted colors.