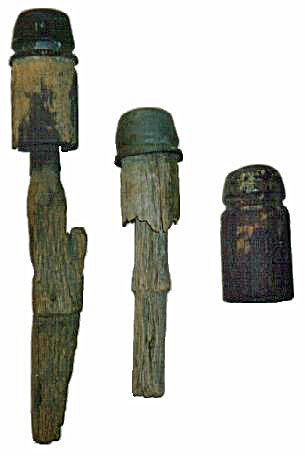 4 3/4" high by 2 1/2" diameter
Chester H. Pond's Patent
January 23, 1872
The Pond's insulator was patented on January 23, 1872 by Chester H. Pond. While the patent is much later than the other pieces in this section, it is included due to itís unique composition and construction.
It is a wooden insulator with a metal shield designed to protect the insulator body from weather and abrasion from wire. The bracket was described in the patent letter as having a collar to prevent capillary action of water and the interior parts were coated with non-conductive materials.
The Pond's patent insulators have been located with both side bracket (left) and round pin (center) type attachments. Some threadless varieties have also been mentioned but are unverified at this time. As can be seen by the center specimen, weather and time were not kind to this insulator. It is difficult to find specimens in the near mint condition of the piece on the right. Most such undamaged specimens came from within buildings such as railroad depots.
Some specimens have the patent date on the metal cap.
These pieces are quite rare and are even more difficult to find intact.
Return to the Early Telegraph Insulators page
---
Written Sunday, January 19, 1997; updated Tuesday, February 21, 2012