S.S.& CO.
From Insulator Wiki (Wikilator)
Revision as of 17:35, 12 February 2008; view current revision
←Older revision
| Newer revision→
General Information
Type: Supply House
Location: Chicago, IL
Manufacturer: Hemingray Glass Company
Production Dates: 1889-1890
History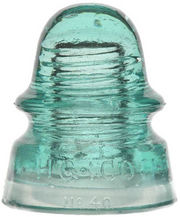 Chicago city directories of 1889 and 1890 list Shay, Stephens & Co. at 134 VanBuren Avenue. H.J. Shay, Charles H. Stephens, and M.D. Stephens, all residing at 702 Warren Avenue, are listed as officers. There are no references to this company before or after these dates.
Only two styles of insulator are known with this embossing, CDs 160 and 162. An article in the Electrical Industries Volume 1 No 2, 1890 lists other styles, including at least one in porcelain, but no known examples of these exist.
These insulators are likely made by Hemingray. The embossing matches Hemingray embossing of the period, the colors are consistent, and shards of these insulators have been found in the Hemingray dump. Hemingray obviously had the mold for the CD 160 S.S.& CO since there is a CD 160 H.G.CO. with an S.S.& CO. blotout, as shown at right.
References