CD 286.9
From Insulator Wiki (Wikilator)
Revision as of 19:15, 16 April 2008; view current revision
←Older revision
| Newer revision→
CD 286.9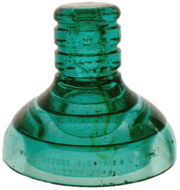 Embossings
Westinghouse Telluride Type "C"
Details
This one-of-a-kind insulators was found at the Hemingray dump (see this article for details). The pinhole is not threaded, but instead has a number of raised "bumps".
A picture of this insulator was discovered in a Trade Journal High-Tension Power Transmission dated 1906.
Discussion
The use of this insulator is unknown, but there is some speculation that it was an early suspension style insulator.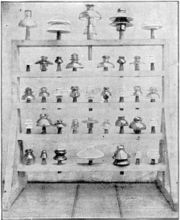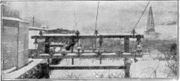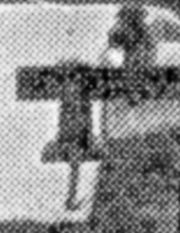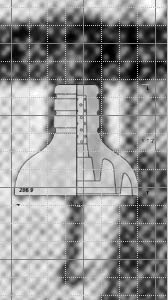 The text of the 1906 article has a photo (at right) of a rack showing a CD 286.9 (at the far left of the top most crossarm) mounted on a pin, and states that the rack is an exhibit of the insulators that were tested. As such is not necessarily indicative of how the insulators were actually installed in use.
On the left side of the cross-arm in picture "Test Installation" on the right (also from this 1906 article), there is an insulator pictured that can't be seen distinctly. This is a picture of the insulators from the testing rack, after a snowstorm, showing the actual installation. An enlargement of the image is shown immediately below that. On the left mounted underneath the top crossarm is an insulator, almost like a ramshorn insulator, the outline of which is similar to the CD 286.9. The "neck" appears longer -- but details are not present to see if that extension is part of a mounting bracket of some type.
The next picture shows a shadow profile of the CD 286.9 overlaid on the mystery ramshorn. It looks like a very close fit -- with the exception that the top obviously doesn't go up far enough to fit into the crossarm. On the other hand, the diameter of the top in the picture appears to be slightly larger than the insulator top, which would make sense if there was a covering of some sort, perhaps a bracket that went around the glass portion, and which in turn actually made the attachment to the crossarm somehow.
Quoting from a different article
An insulator was designed to be under-hung, the top of the insulator being supported in an inverted cup which was to be bolted to the under side of the cross-arm
It is possible that the CD 286.9 was mounted inside of a steel casing for the top half. That would allow just the steel to be attached underneath the crossarm, hence the overlay shown of the CD 286.9 could well be a perfect match.
This picture doesn't contain as many insulators as are pictured on the exhibit rack, so there's nothing to say that the CD 286.9 is actually shown.