Something Old, Something New,
Something Borrowed, Something Blue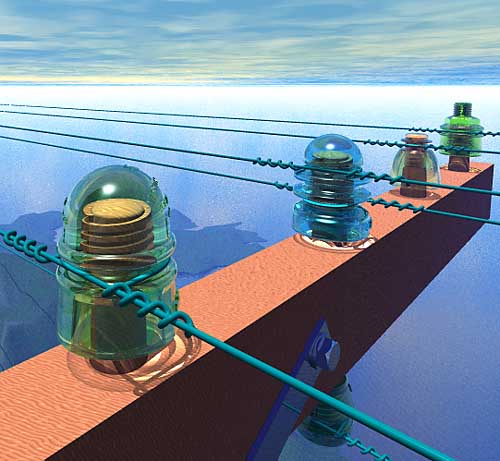 June is the month for graduations and weddings. We've graduated into the last phase of preparation for the National. The Chesapeake Bay Insulator Company Catalog is complete with only minor editing and printing to go. Our convention site is now full with an alternate site for guests at the Super 8 Motel (1-800-336-0500, 757-229-0500) one half mile from the convention. As the line closes in on the Blue Chesapeake Bay, we have filled the poles with Old Glass, New Plastic, and some Borrowed Jewels from other parts of the East Coast. We are still looking for displays of other manufactures in order to show the diversity of the insulator production line. Come celebrate with us and enjoy the bounty of the Chesapeake Bay. See the show page for more details.
Next Month: "The End of the Line"

Return to the 1998 National Show page
---
Last updated Thursday, June 4, 1998