This is the primary reference for unipart pin-type porcelain insulators (those made in one piece; not cemented multiparts).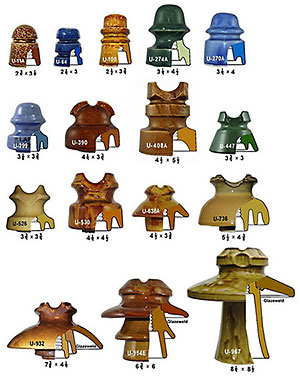 All 1028 unipart styles are shown with color reference photos of actual specimens. Each style has been assigned a Unipart Number (U-Number) and part of the photographed insulator is cut away to show the pinhole, petticoat(s), glaze-weld, and other features.
In addition to the U-Chart of 1028 pin-type styles, there is an extensive history of the development of porcelain insulators including photographs showing how they are made. There are nearly 500 historic and other photographs (most in color) showing key and special insulator styles and to compliment the very detailed history of the more than 54 companies that manufactured pin-type porcelain insulators.
There is an appendix detailing all the known Fred Locke markings. Another appendix was written by Michael Spadafora summarizing his decades of researching and hunting Fred Locke insulators with characteristics to aid in dating your Fred Locke insulators and learn more about how the "Father of Porcelain Insulators"; evolved insulators manufacturing techniques and styles to produce high voltage insulators for the rapidly growing electrical industry from 1894-1904.
This is a "must have" reference book for anyone with any interest in porcelain insulators where it be simply cataloging your collection or spending time learning about the industry!
See Multipart Porcelain Insulators for M-number system and the Value Guide for Unipart and Multipart Porcelain Insulators for current values as well as a complete listing of known specimens of unipart and multipart insulators and their markings and colors.
Collector's Guide for Porcelain Insulators:

Personal check or money order: $45.00 plus $5 shipping (USA only)
Paypal to email address: $45.00 plus $7 shipping (USA only)
For orders outside the USA please email for shipping rates.
Order from:

Elton Gish
Dept. WWW
5415 Lexington Circle
Lumberton, TX 77657
Email:
Web: www.r-infinity.com

Return to the Porcelain Reference Books page
---
Please send your questions and comments to Elton Gish at
Last updated: January 1, 2020