Terry Bauman's Insulator Page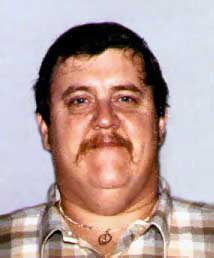 Hello,
My name is Terry and I have been an Insulator collector since 1972. I was introduced to the Hobby by Jack Snyder & Bob Wicks. We have walked miles of the old Wabash Railroad between Toledo & the Indiana border. We found pieces of the following threadless insulators which were broken when a gas line was put along the right of way. We found CD 731 McKee, CD 731 Unembossed, CD 723 & CD 723.3 and CD 735.6 (Big Blue). What a shame they were all in pieces. I did find a CD 723.3 which is now in Jack's collection.
I collect a lot of different stuff but my main collection is older style Brookfield's. I also am partial to CD 132 & CD 133.4 bullets, both embossed and unembossed. I also have some colored pieces, CD 151 Peacock NATCO, CD 162 Cobalt and Amber!, CD 190/191 Diamond Royal Purple, CD 194/195 Purple, three EC&M'S plus other pieces that I like. You can see some photographs from my collection below.
I retired in 1995 from AP Parts company after 30 years of service as a Forklift driver. I am married to Gloria (33 years) and have a daughter Theresa. I have Arthritis of the hips now so I have trouble getting around like I would like to anymore.
I met John & Carol McDougald years ago and I hope to renew that acquaintance again this year if I can make it to some of the shows. I hope to meet some of the other collectors also. I also collect fruit jars, fossils, stamps, coins and other things. My wife says I am just a packrat. I am also an Extra Class Amateur Radio operator with the call sign W8TB my initials which I was lucky to get. I enjoy talking all around the world and have made many friends and also took the family on a trip to South Africa in 1981 to stay with friends I made over the air.
Some insulators from my collection: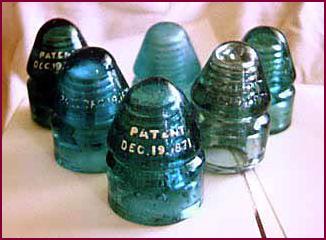 CD 132's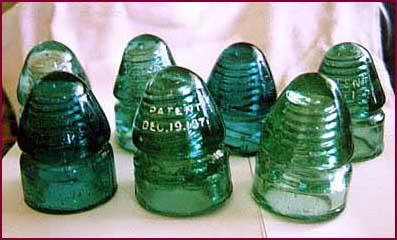 CD 133.4's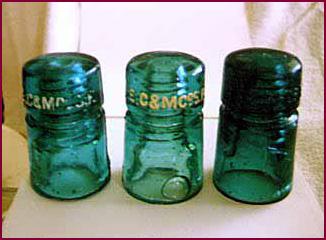 EC&M's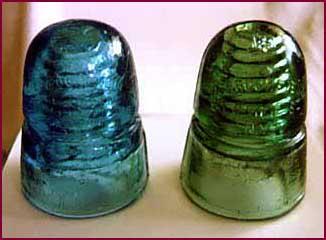 CD 145 Brookfields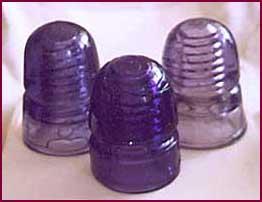 Purple Beehives
---
Written by Terry Bauman,
Last updated Wednesday, August 12, 1998
---

Return to the Insulator Collectors' Pages