Paul Deriso's Insulator Page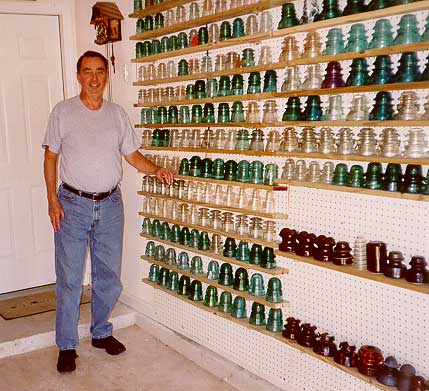 My name is Paul Deriso. I am a retired Banker and live in Orange Park, FL. I have been actively collecting insulators for about three years. However I have been aware of them and around them for most of my life.
My first exposure to insulators was as a young boy when I often went to work with my Dad. He was a telegraph operator with the Seaboard Railroad. He worked most of the towers in and around the Jacksonville area, as well as Baldwin Yard which was, and still is, the main switching area for North Florida. At Baldwin Yard I got to watch all of the yard activity up close and even got to climb around on the steam engines. I remember insulators being all over the yard but at that time, unfortunately, I was not interested in them.
In the towers, (they called them towers but they were just small square wooden buildings) my Dad's duties other than operating the telegraph, included operating track switches. At that time the switches were all manual and were operated by moving a long steel lever that was in the tower. Insulators were everywhere. in addition to being on the chair legs, I remember them being placed on the top of the switch levers. I don't know why they were put there as sometimes he would place one on a lever that was in the open position and sometimes on a lever that was in a closed position. I remember at one particular tower, a pile of insulators nearby. Periodically the brakemen and other train crew members would throw them at rats in a ditch! Hmmm, I wonder if I can find that ditch -----
My next exposure to "insulatorities" came while in the service. I was in the Headquarters Company, Communications Platoon of an Infantry Battalion. I did not climb the poles, but often went with the guys that did. Wow. Yet another missed opportunity.
About fifteen years ago I stopped at a junk store on the way home from work one day and wound up buying about 200 insulators for $35.00. I put them in boxes and stacked them in the corner of my garage. About three years ago I got them out and cleaned them up. I then found ICON and some other sites, bought a couple of books and have been hooked ever since.
I recently put some shelves in my garage and now have about half of my collection on display. I am still trying to figure out where to display the rest of them.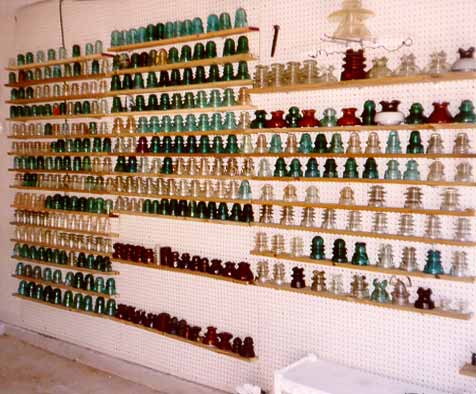 I do not have a specialty that I collect. I just enjoy getting something new and different. Whenever I obtain a new insulator I just enjoy cleaning it up and seeing what I can learn about it's history. To me they are all beautiful; even the beat up and chipped one's. Just like people they all have a distinct personality.
I hope you enjoyed the pictures. If you are ever in my area I would love to show my collection and talk shop.
Paul Deriso
NIA #7858

---
Last updated December 30, 2003

Return to the Insulator Collectors' Pages