Kathleen Edwards' Insulator Page
I was born in Montreal, Quebec in 1963. I spent the first 17 years of my life in Northern Virginia, where I was initiated to the thrill of digging up neat stuff in bottle dumps when I was ten. When I was thirteen, I got my first insulator from my brother, irrepressible transposition insulator collector Michael P. Doyle (a.k.a. Polecat). His psychotic enthusiasm for the hobby proved irresistibly contagious and I now have almost 200 different specimens of colored, threaded glass.
When I was 17, I moved to California where I lived for five years. When I was twenty-two I moved to North Carolina. I enjoy collecting antiques, old bottles and, especially, glass insulators. I went to my first show (Chesapeake Bay Insulator Club) on March 8, '97 in Maryland and had a fabulous time. When I 'm not collecting old stuff, I work in advertising and ride horses with my husband.
My specialty is Canadian glass.
Some of my favorite glass.
Most of those shown are under lit with fluorescent tubes
on a 4' homemade, pine light box.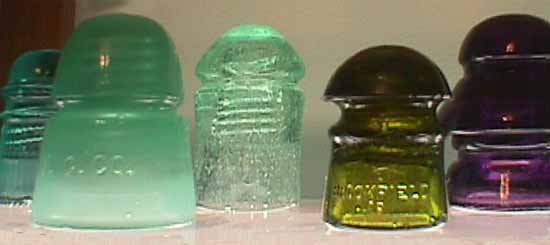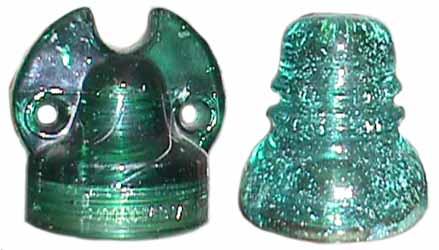 ---
Written by Kathleen Edwards,
Last updated Friday, April 13, 2001
---

Return to the Insulator Collectors' Pages