James T. Stover's Insulator Page
Information about me and my collection:
Hello. I am a novice collector of insulators with a rather modest accumulation of about 100 pieces. My wife Ruth allows me to keep a small portion of my better pieces at home, while the majority of my common insulators decorate my office. I get lots of comments from my co-workers. A few of my common are shown below: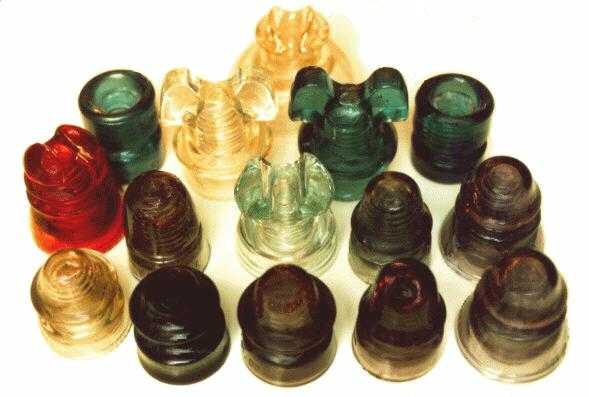 At first I concentrated on simply expanding my CD collection. But recently I have been attempting to find nice colors, especially CDs 154, 162 and 164. Some of these are shown below:

How I got started with the insulator hobby:
Back in 1981 I was exploring a little used railroad line near my house and noticed an abandoned telegraph line along the right-of-way. I gathered about a dozen insulators that day, not knowing much about them. They turned out be be "rare" aqua CD 154 Hemingray-42s. I stored them away and did not think much about them until a few years ago.
I then started conversing with a few people on the Internet and, with their help, I was able to identify the insulators in my collection. From there I started searching out insulators in local antique malls and have traded with a number of people on the net. My first nice find in an antique mall was a purple CD 154 Whitall Tatum. My finest piece is a purple CD 164 B.G.M. CO.
A few years ago I visited the Panhandle Plains Museum in Canyon Texas. There I saw a very large collection of insulators beautifully displayed. There were power, threadless and an endless variety of colors. It was the first time I had seen such a beautiful collection. I recommend it to anyone visiting Texas.
Other information about me and what I do:
I am programmer and am interested in photography, classical music, movies, railroads, model railroads, antiques, art, reading and plays. I am a graduate of Purdue University with a masters in Computer Science.
How you can reach me:
James Stover
2505 La Vida Place
Plano, TX 75023
972-867-3099
E-mail:
Visit my other web page at http://www.geocities.com/jtvstover!
---
Written by James Stover,
Last updated Saturday, February 7, 1998
---

Return to the Insulator Collectors' Pages