Gary Tilson's Insulator Page
My name is Gary Tilson and I live in the eastern part of Tennessee at the foothills of the Great Smokey Mountains. My wife Elizabeth shares my interest in collecting insulators which makes this great hobby more interesting. We are also members of the Dixie Jewels Insulator Club which has been a great help in mentoring us as we learn about the hobby and build our collection. She also collects antique juicers and ceramic dove pairs but I believe her greatest interest has become the jewels of the wire. My collecting story is very much like that of so many I have met that began in the early 70's and cooled of when we believed we were collecting alone and had one of each ever made. In my case that magical number was 176 that were packed away in the well house for over 20 years before I received a call from Ken Roberts of the Dixie Jewels. I became interested again when I learned how vast the field was and how many were still out there. Just a meeting or two and my wife and I were hooked on the hobby and the great friends we were making.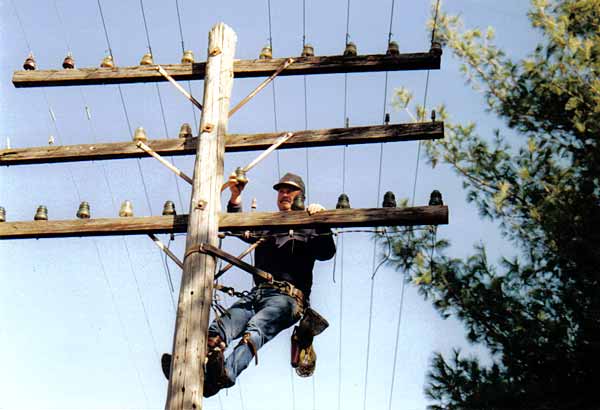 Since that time my collection has grown to almost a thousand of different CD's and to many colors to think about. I along with club friends stay very active in hunting and and capturing insulators. Between the club meeting purchases and trades, the antique shop finds and the insulator hunts there is a steady stream of glass and porcelain coming into our sunroom. I am currently working on a glass insulator display at the Charles Hall Antique Telephone Museum in Tellico Plains, TN. which will have about 250 insulators to help inform the public of the rewards of the hobby and also supply information on the NIA and the clubs spread out across the nation. The museum is located at the north end of the Cherohala Skyway that goes from Tellico Plains in Tennessee to Murphy North Carolina and has a tremendous amount of tourist traffic. In my personal collection I have been unable settle on any one type of insulator as a favorite so I tend to just get em all regardless of CD or color just as long as I don't have it and can find room. What a wonderful hobby and what great bunch of people to be associated with. It's a good Life!
---
Written by Gary Tilson,
Last updated Sunday, January 30, 2005
---

Return to the Insulator Collectors' Pages