Compiled by Mike Whitaker
3 November 2003
Lee Brewer wondered..
The only dark green CD 162.5 PRR I have seen in person, I purchased at Springfield Show.
Replies:
Sandia Harrison comments:
I have not seen too many green P.R.R. 162.5s myself. Nor, for that matter have I run across these in many of the other listed colors. I've never seen a true blue one. Blue aqua, maybe, but not blue. Haven't seen a yellow green one either. What I have seen is many exceptional impurity pieces in this particular CD. But as far as color goes, that's another story. We've got one green one in our collection, and more than a few dark green-aquas, which by the way appears to me to be the most prevalent color.
Bob Berry comments:
I added a picture of a green P.L.W. -- see:
CD 162.5 Green P.L.W.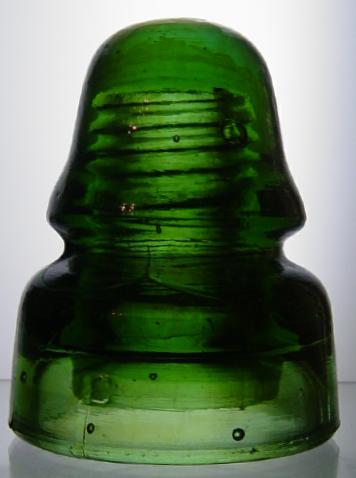 Here is a green P.L.W. CD 162.5 (Sandia's Request)
Lee Brewer comments:
I meant to say a dark green one. I have a green one (although it took me awhile to find one and probably will take most people a while also) and now am the proud owner of a dark green one.
The dark green aqua ones appear to be the most prevalent in your batch around here the old Pennsylvania line through Corry, PA used these locally and I never saw a color except aqua until I got to a show.
Here are the PRR [010] pics. One pic leads to another:
CD 162.5 Unlisted Teal Blue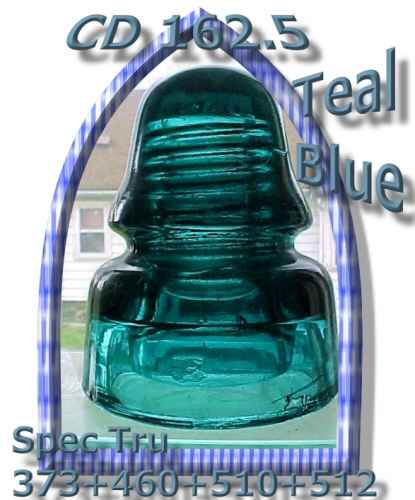 Here is a teal Blue CD 162.5 - so far I have not heard of another -- but would like to! How many of you have seen another? UPDATE: As of Nov. 6, 2009 - there have been a total of 5-6 of these seen. The ones with a known pedigree hail from the SW corner of PA. Most of the known ones were from this area. So far a similar characteristic of them have been the presence of one or two small, white (firebrick?) chunks in the glass. This may be indicative of them being from the same glass batch. I also have located one (from same area) that might fit into this same family of color but is slightly more blue than teal. [id=72698980] for a pic of a Dark Green CD 162.5 [id=72699161] for a pic of a green CD 162.5 [id=72699314] for a pic of an aqua CD 162.5 [id=72699878] for a pic of all 4 together.
Patrick Scott comments:
What lines did these PRR 162.5s come from? Who's picked them? The Conrail line into St. Louis didn't have them that I know of. Are they or were they mainly out east?
Lee Brewer comments:
Sandia wanted to know if green aqua was the most common PRR in this area. I cannot remember seeing too many green aqua pieces here. I showed Mike Csorbay a darker aqua one still on a pole about 3 miles from my house.
Claude Wambold comments:
I know on some of the branch lines the PRR's stayed up until the end. The line North out of Williamsport was hit by massive flooding in 1972 and was abandoned . It had a two arm line and there were from 4 to 8 on each pole. They were all medium to dark aqua. I know there was a piece of an olive amber one found on the line that runs thru Lewistown, PA. In the past 3-4 years I have been finding some with lots of green or amber swirling and some with green and amber swirling. I just recently picked one out of an antique shop in Central PA that is the best color P.R.R. I have ever seen. It is a deep yellow green. Will post a photo.
CD 162.5 P.R.R. Insulator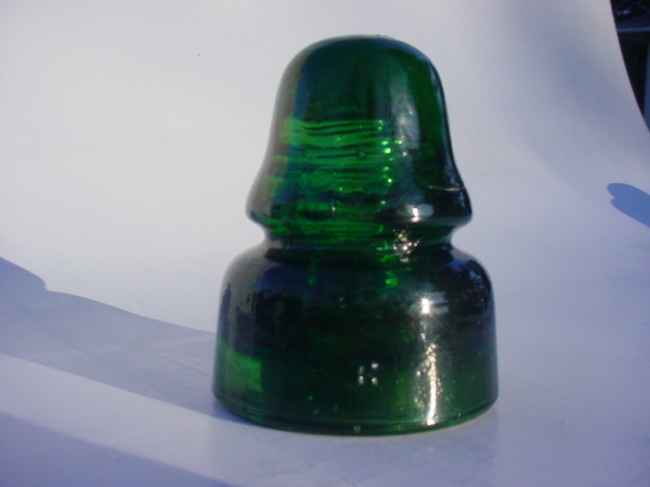 This insulator is a deep Yellow Green PRR Insulator I found in Central PA

Return to the ICON articles page