Compiled by Bill Meier
17 April 2005
Elton Gish comments:
Here are four photos of this rare, beautiful M-3460. The story of how it survived is very interesting.
Greenish Gray M-3460 N-N Thomas
I recently got this beautiful M-3460 N-N Thomas with blue-jean seam (BJS) marking inside the bottom skirt. Thomas insulators with the BJS marking were made around 1905 to mid-1910's. Bob Stahr recently found the patent covering this unique Thomas feature. The insulator was obtained from an older lady in New Hampshire. She told me that her mother got the insulator in the early 1940's when she lived in Middlebury, VT and her mother gave it to her in the early 1960's. The insulator has seen long service in various flower beds, as a planter, and recently as a decoration on the fireplace hearth. She heard of a rare insulator selling last year for a large sum of money and asked her son to see what he could find out. He contacted me for an estimate of value and later the lady decided to sell it.
Greenish Gray M-3460 N-N Thomas - #2
This sunlight photo show the color better.
Greenish Gray M-3460 N-N Thomas - #3
This photos shows the blue-jean seam. Thomas used denim fabric to prevent the forming plunger from sticking to the wet clay. The BJS running down the inside of the bottom skirt is the heavy seam of the denim blue jean pants leg.
Greenish Gray M-3460 N-N Thomas - #4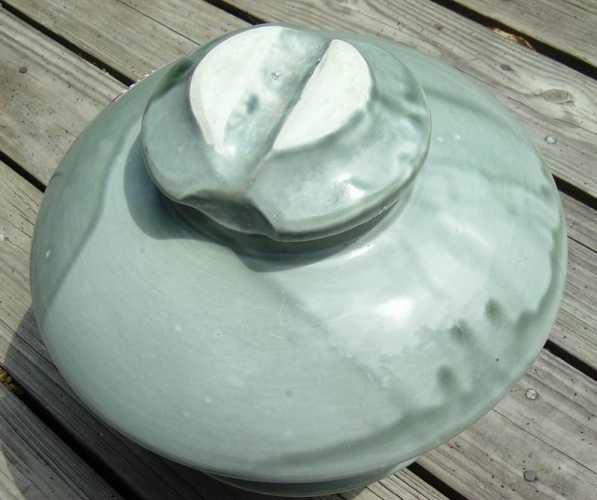 Note the beautiful mottling of the top skirt.

Return to the ICON articles page