Compiled by Joe Maurath, Jr.
6 August 2004
Joe Maurath, Jr. comments:
Here are some CD 134 Diamond-P photos and history
CD 134 Diamond-P cobalt blue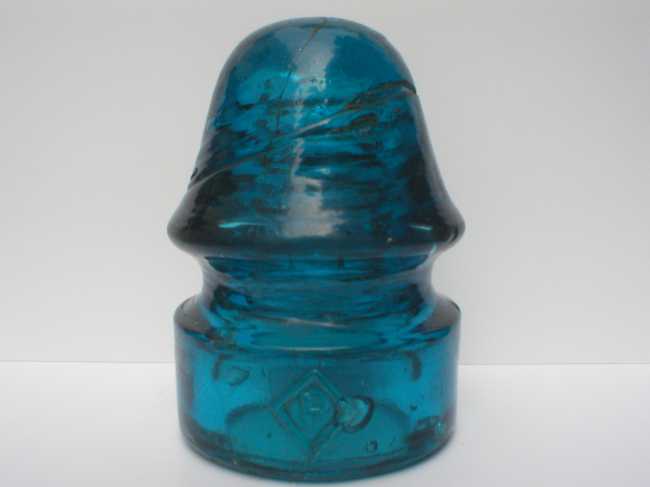 This piece was acquired by Joe Maurath, Jr. during July 1970 in Rockland, Massachusetts on an abandoned fire alarm telegraph line. Two others like it are known in this blue color and were found by others in subsequent years. The second known was acquired from the Whitman (MA) Fire Department Alarm Division storage room sometime around 1973. The other was part of a spectacular discovery in Randolph, MA. Like the Whitman, MA piece both were found in a barrel full of glass insulators in supply rooms. Joe originally approached each of the above FD Signal Division supervisors back in the late 1960s but he was denied access to their dusty, old insulator stashes. The Randolph piece was reportedly found by a bottle collector from that town who had the right "connections" around 1975 to find the third-known blue Diamond-P... along with numerous other examples of this type which were of yellow-greenish vaseline, light jade packed with bubbles, cornflower blue and several other truly exotic colors! Joe already had a nearly identical array by then (1975) which came from various locations. The Randolph find was so much like Joe's Diamond-P spread that a local collector who had seen the Randolph pieces actually called Joe to ask him (in mid-1975) if his collection had been stolen! It obviously was not! It is believed that the Randolph Diamond-P grouping remains intact and in a New York State collection. More photos of Joe's amazing Diamond-P's will be forthcoming in the near future.
CD 134 Diamond-P cobalt blue (Reverse side)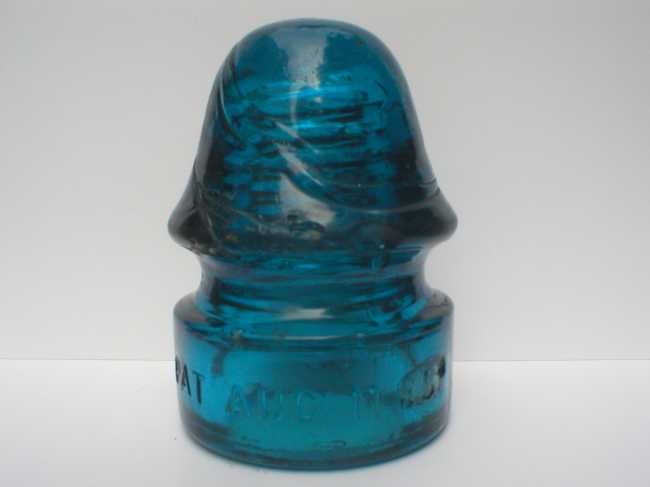 Historically this and the other two blue Diamond-P insulators known have been referred to as "cobalt blue" however some refer to these as "sapphire blue". Take your pick! The August 11, 1885 patent on this insulator refers to "a method of forming threads on articles of glass" and was issued to James Pennycuick of Boston. There was no mention within the patent language about insulators. It is not known where these insulators (and the much more commonly found unembossed examples in this and other styles) were made. There is some strong speculation that they originated from a glassworks on Cape Cod. "Pennycuick" insulators have characteristic fine, concise and high quality threading which definitely was quite unusual for insulators of their day (c. 1885-1900).
CD 134 Diamond-P Light Green Speckle Filled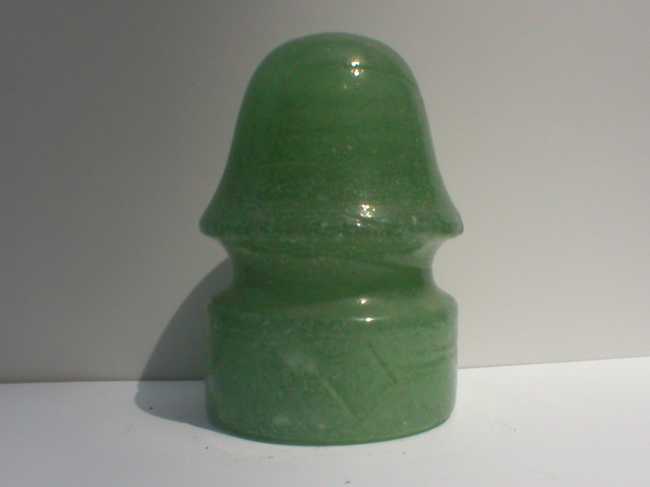 This insulator at first glance has the appearance of light green milk glass but upon closer inspection it is filled with zillions of white microspecks! Definitely a tough color to describe! This Diamond-P was located in Avon, MA in 1970 by Joe Maurath, Jr. At least one other is known and it was among a cache of super-colored Diamond-P's located inside of a fire alarm supply room in a very old barrel. That find was in 1975 in an adjoining town (Randolph) and was the luck of a bottle collector who was permitted access.
CD 134 Diamond-P Opalescent-Vaseline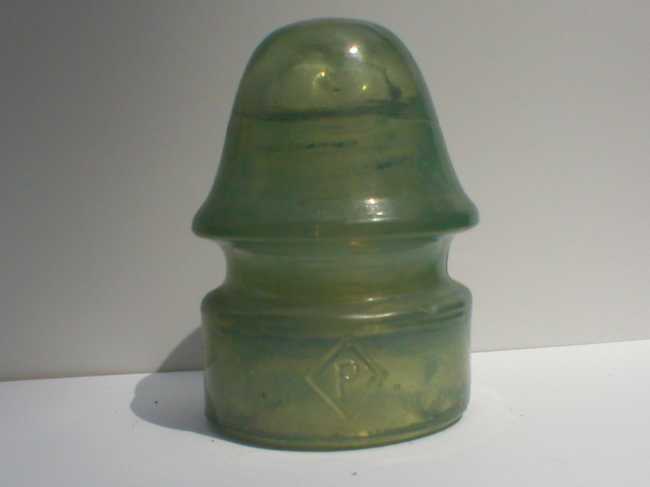 Another color that is tough to describe! This piece was located in 1970 on an old fire alarm line in Taunton, MA by Joe Maurath, Jr. and Phil Harding. Joe originally spotted this piece (among other great stuff still in the air then!) and without wasting time his good collecting buddy (Phil) who was a well-seasoned utility lineman, swapped this insulator out. Joe and Phil canvassed southeastern Massachusetts for good glass between 1969 and 1971 and were able to liberate some spectacular insulators for their collections. Joe still has all of his share and the best of them with their stories/history are being presented here!
CD 134 Diamond-P Cornflower Blue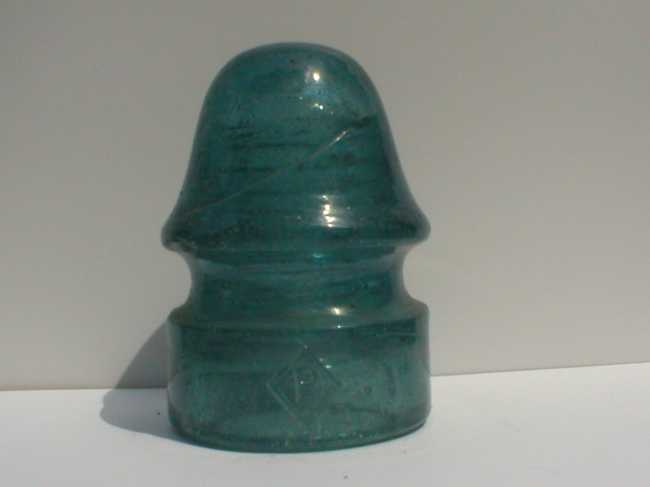 Another super colored Diamond-P found by Joe in 1970 in southeastern Massachusetts. During the early 1970s Joe was not on a manhunt for Diamond-P's; they simply kept "happening" and in a different color each time! During 1970-1971 he amassed quite a grouping of them and each was different! His Diamond-P spread was practically identical to the incredible find made by a bottle collector in Randolph, MA a few years later by means of picking them from an ages-old fire alarm supply barrel!
CD 134 Green Diamond-P Duo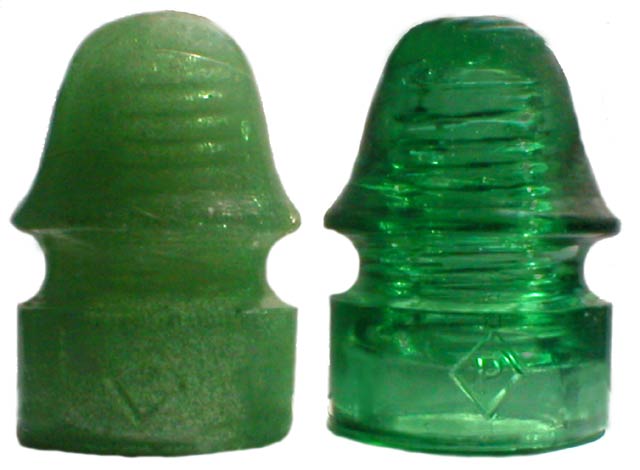 On the left is another view of the super-fizzy, white-speckle filled Diamond-P that is shown elsewhere within this album. The Diamond-P on the right is apple green. Joe Maurath, Jr. spotted this one in 1968 in a storefront window display which had some old bottles and a few glass insulators. He was quite excited about this unusually colored insulator and made contact with the owner. He graciously gave the piece to Joe which kicked off his "colored" Diamond-P array!

Return to the ICON articles page