Compiled by Bill Meier
10 March 2007
Colin Jung comments:
This Seilers Patent insulator, CD 130.2, was recently discovered by a non-insulator collector. The location is being kept a secret as the finder is still digging the site to see if other goodies turn up. The site and geographic location are a logical place where a Seilers might be found. Details will be disclosed when the piece is made available for sale. I do not own the Seilers. I am just a disinterested person helping this bottle digger achieve a fair market value for his insulator find.
Seilers Discovery Site
Here is a photo of where I think the Seilers was discovered based on the site description provided by the digger. It would have been found in the spoils piles you see in the photo. Will this site be overrunned with diggers? I don't think so.......Lot is fenced and, onsite security has vehicles and a residential trailer.
Here are some photographs of the insulator:
Seilers Patent, CD 130.2 front view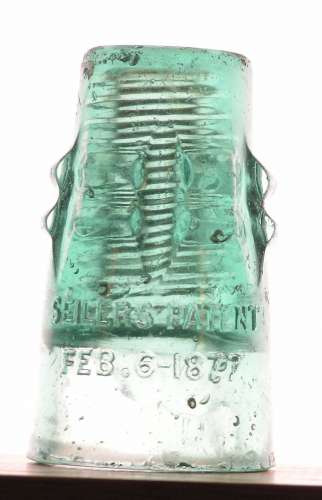 I had an opportunity to see this telegraph insulator in person and I took a dozen plus pictures. It has six wire groove/ridge projections with the following dimensions: 2 5/8" base diameter, 4 1/2" tall. It has a scattering of nicks and pings that you would expect with a very old insulator and a good heft. The base is smooth and the embossing sharp. The color is aqua. It takes a threaded wooden pin, which stops about half way through the threads.
Seilers Patent, CD 130.2 rear view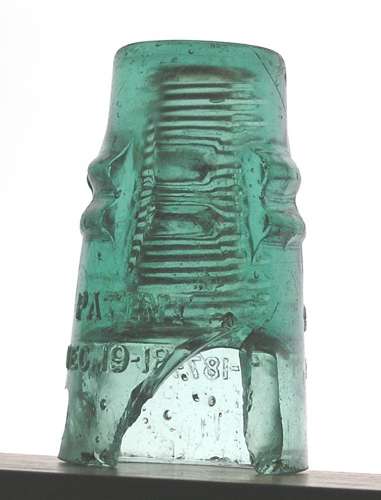 Here is the photo of the rear with the Hemingray patent date: DEC. 19, 1871. The large, old chip takes out the "71" in the patent date.
Seilers Patent, CD 130.2 side view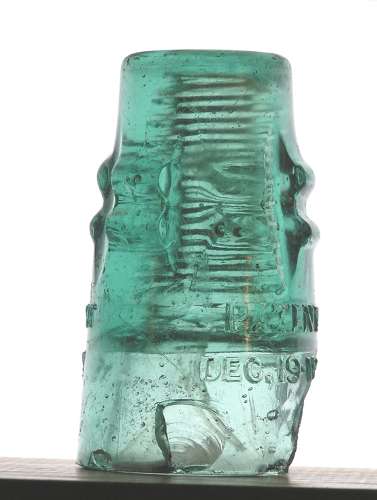 There is an additional circular flake off the side, about the size of a nickel. It came off when the owner was cleaning the insulator. The glass flake was kept and could be glued back.
Bill Meier comments:
The CD 130.2 Seilers was listed on eBay with the auction ending on March 3, 2007. There were only three bids from three different bidders. It was listed with a reserve of $3,500.00 and sold for $3,939.99

Return to the ICON articles page