Compiled by Colin Jung
20 Dec 2003
Paul Greaves wondered..
I stumbled across a really interesting resource of historic photographs, the digital archive of the Automobile Club of Southern California. The start page is:
http://library.usc.edu/uhtbin/cgisirsi/0/0/55/31/X
What's up with the prickly looking telephone crossarms on the right in the digital photograph? Could they be full of CD187's or CD 188's?
http://library.usc.edu/uhtbin/idaimg?uscid=USC-2000-0013FS-1&nav=1
Replies:
Brent Burger comments:
Yes, those are CD 187 and CD 188 duplex insulators! Most collectors refer to these as "mine insulators," but this is actually how they were designed to be used. Granite Falls, Washington was once full of poles with this over-and-under crossarm arrangement of insulators
Michael Doyle comments:
I thought that these were more commonly referred to by collectors as Brown's ponies.
John Graham comments:
I have always called them mine insulators. The only other person I have encountered that calls them Brown's ponies is Ray Klingensmith.
Bill Meier comments:
I disagree. The only "true" mine insulator in the "Through pin-hole and Mine insulator styles (CD classes 185-189)" is CD 185. CD 185.2 used to be listed in the McDougald price guide, then it was dropped because its existence could not be documented, and then the insulator reappeared in 2003. CD 186, 186.1 and 186.2 are experimental pieces and no one really knows how they were used. CD 187 and CD 188 are what I consider "Brown's ponies." CD 187 is the insulator you see at the bottom of all those duplex pins in the digital photograph. In fact, a recent ICON message pointed people at pairs of them in use. My 1915 Western Electric catalog lists a "Brown duplex locust|oak bracket" It is a long pin with threads on either end. CD 187 Brown's insulators go on the bottom. I suspect this is how the insulator got its name.
Bob Berry comments:
I believe the main reason these should be called Brown's ponies is that they were patented by Robert G. Brown of Brooklyn, NY on November 23, 1886.
Brent Burger comments:
Whenever the subject comes up among collectors, they seem to be referred to as mine insulators. I figure it has to do with generalizing the through-pinhole types as all being made for mine use. A little study reveals these are different by design, but still pretty much the same as specific mine types such as the CD 185. I have never found a specific through-hole insulator in a mine shaft proper, nor have I ever spent much time in old mines. I have found some regular pintype insulators in mine shafts, but never the CD 185- CD 188 types. About ten years ago I purchased a fairly large quantity of CD 188's from a fellow who salvaged the Granite Falls telephone system. Upon further investigation, old photos revealed that at one time that system (at least the mainline, downtown) had two ten pin arms full of duplex pins, doubling the wire potential from 20 to 40!
I purchased two to four CD 187-188's from a gent who said he got them in and around Wallace, Idaho. This included that 3/4 inch pinhole specimen we have discussed before. I am not saying these came out of the mines around Wallace, as they could have just as easily been used on fire alarm circuits, but the suggestion is there, given the town is all about silver mining.
Brent Burger comments:
The CD 187 is referred to as a Brown's pony, or Duplex Pony in period catalogs. The CD 188 is referred to as a Deep Groove Duplex Insulator, or Brown's Deep Groove etc.
David Whitten comments:
CD 187 is also called a "Brown Or Duplex Pony Insulator" on page 49 of the 1912 Brookfield insulator catalog (listed as their No.73). The CD 188 is called a "Brown or Duplex Deep Groove Insulator" and was listed as their "Brookfield No.72" in the catalog.
Bill Meier comments:
I cannot say I have personal knowledge of the CD 185's coming from inside mines, but: 1) The patent says that is their design usage 2) The patent lists a specific pin designed for overhead usage 3) Embossing "Special Mine Insulator" and "Mine Insulator" 4) They always seem to be damaged. 5) Old catalogs list them as "Mine Insulators"
That's good enough proof for me!!
Colin Jung comments:
Those thingies hanging under the crossarms in the USC photos Paul Greaves found are probably Brown's ponies. In that picture, they hung under crossarms on duplex pins that are threaded on the top for a pony and on the bottom for a Brown's pony. I have such a pin. It has a tapering shaft such that when the pin is dropped into a crossarm hole, it doesn't fall through. The duplex pin was also used with brackets as shown in John Wise's photo.
Pony Duplex Pin and Bracket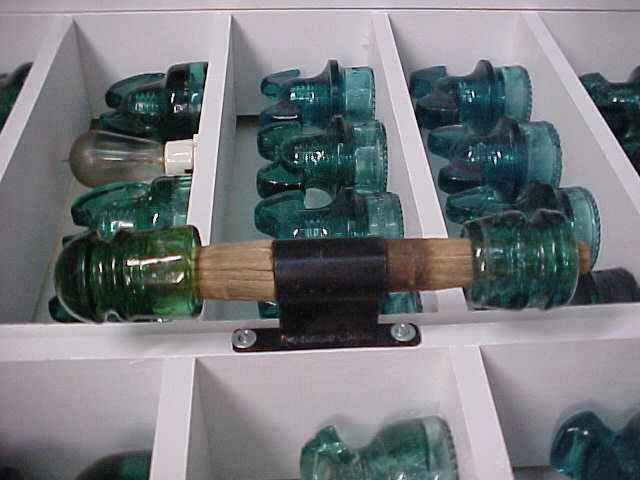 Browns pony, pin and side bracket. History- When i was a young lineman for GTE, we had to remove some circuits of open wire in the Turnbull Canyon area, above Whittier, California. There was an old Spanish style Hacienda up in there that was quite large. There were two six pin arms that fed the property, each arm had 6 duplex pins, however only 2 circuits were being used. Can't recall what the top 2 insulators were, but we did get 2 CD 187's. One of the circuits was deadended on the old house with 2 steel brackets one of which I kept and my collector lineman friend kept the other. They had been on the house for some time and were quite rusty. the original wood pin on the bracket was trashed, probably because of the strain on it, and I discarded it. The pin in the picture is from one of the crossarms because it was in much better shape. As memory serves me we did discover some more of the brackets at other locations, but never saved them. I'm sure they are still on houses somewhere in uptown Whittier.
I found a good article about the Brown's pony/duplex pin in an old issue of Crown Jewels of the Wire. (Addendum) It is December 1992 issue, "Ask Woody" column by N.R. Woodward. In response to a reader's question, he answers: "The third insulator you describe was made under the Robert G. Brown patent of November 23, 1886. There were two styles made, the Brown Pony (CD 187) and the Brown Deep Groove (CD 188).... These were made for use with a special pin, the upper part of which was the same as a regular pin; but the lower part extended below the bottom of the crossarm and was also threaded. The Brown insulator was used theron. When an arm was assembled with Brown pins, its capacity for wires was doubled.
The reason for the through pinhole is so that if water gets into the insulator it can drain through and not remain inside the threads. Should that happen, the insulator will crack if the temperature drops below freezing. The top of the insulator was rounded to shed water and was supposed to fit closely under the crossarm, but the open bottom was a double safeguard. Most of these are embossed "PAT'D NOV. 23d 1886." Often they are difficult to read..." The response included a catalog cut from the Edwin C. Lewis Catalog, c1908, which depicted "No. 2335, Brown Pony, Standard Thread" and "No. 2336, Brown, Deep Groove, Standard Thread." Also depicted from the catalog was an assembled Brown pin.
There was a nice write-up about the Hemingray-95's in service by Robin Doody of Wilmington, (Delaware ?) in the May 1977 issue of Crown Jewels. The author wrote that the local utility mounted the Hemingray-95's on the bottom of duplex pins with a Brookfield, Hemingray, Gayner or Lynchburg signal insulator on top. The pins were mounted on walls and under eaves of roofs with brackets. The setup served as electrical drops to houses. The author illustrated four different ways they were set up. In vertical arrangements, the author noted that he always found the Hemingray-95's with the drip points pointed up.
Jeff Hooper comments:
I purchased 362 of the CD 188's from a fellow about 4 years ago who bought them at a P.U.D. auction. When I purchased them, he referred to them as Brown's ponies. There were some awesome unlisted colors in those buckets, including yellow olive green, emerald green, amber swirled greens, marine aqua, light aqua, etc. It included several over and under pour pieces. I was told they were used in the Port Angeles,WA area and were called duplex insulators by the power company. They used them as add-on pieces for extra lines on the under side of the crossarms already in use or used them on add-on side pins. I do not know how they were mounted to the under side of a crossarm. They have always been called by a lot of collectors as mine insulators and I am sure they could have been used as such, but they are not true mine insulators. I have always called them Brown's pony or duplex insulator.
Lou Hall comments:
For those who would like to see some more duplex pins check out these posted under the ICON Information/Reference photo folder:
Duplex Crossarm Pins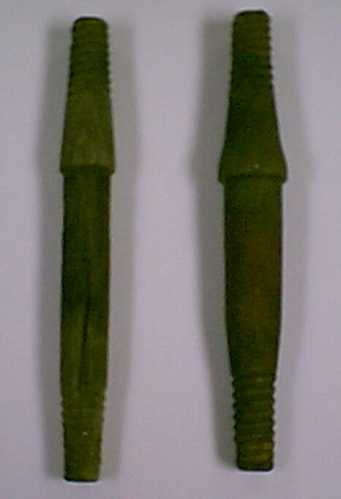 Duplex pin on the left has a 1 1/4" diameter shank x 11 1/2" long. The pin on the right has a 1 1/2" diameter shank x 12" long. Catalogs indicate they were offered in Oak or Locust wood. They could be ordered unfinished, painted or paraffin coated. Catalog listings state they were to be used with duplex pony and duplex deep groove insulators.
Duplex Crossarm Pins with Glass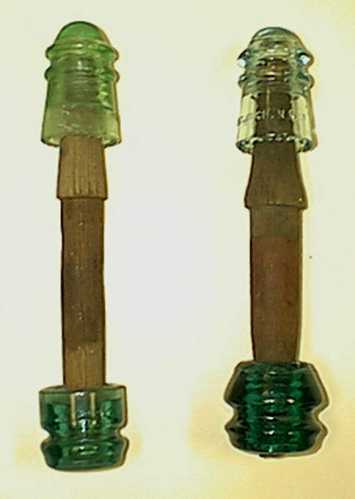 Duplex pin on the left has a CD 187 No Name [010] attached and the pin on the right has a CD 188 No Embossing attached at the lower end of the pin on the bottom side of the crossarm.
Duplex Bracket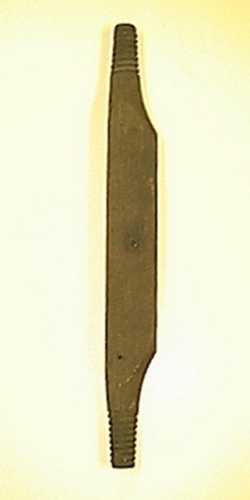 Oak duplex bracket 1 1/2" x 2" x 16". This item is offered in the 1918 Western Electric Company catalog. This piece is a lot harder to find that the glass that was installed on it.
James Doty comments:
I too have found some glass pin type insulators inside a few mines, but mostly just the porcelain spools, never a CD 185 or any Brown's ponies.
Robert Gilkerson comments:
Here is the story on how my brother & I found a couple of CD 185's in an abandon coal mine - as it appeared in the March 23, 2003(?) ICON digest.
Back in the late 1960's, my bother & I rode our bikes all over the Lincoln Park area of Canon City exploring everything we could find. One of our favorite places to explore was an area called Fawn Hollow, which had an abandoned mine complex that appeared as if the mine owners just walked away from the operations in the 1930's and left everything in place. On one trip we were able to find the mine entrance which was partly blocked with rocks and silt; however, the mine was flooded. We were able to see far enough in with our flashlights to see several glass insulators on the wall. The water appeared too deep and too scary to wade in; therefore, on our next trip we built a small raft with railroad ties we dragged into the mine. My bother was small and lightweight and would not sink our fragile homemade raft. He was volunteered to float back the 15 or 20 feet into the mine to rescue two mine insulators. We were able to recover one rough looking Jeffery and one nearly mint "Mine Insulator". My bother was under strict instructions never to reveal our adventure to our mother, knowing she might severally restrict our adventuresome bike rides. Of course little brothers always spill the beans! Yes, it was dangerous, but it made a great memory growing up and collecting insulators.
By the way, as I remember the Jeffery was attached to a beam via wires going through the pinhole, hence most of the drip points were chipped or missing.
John Rajpolt comments:
Here is a link to a photo on ICON of a CD 185:
http://www.insulators.info/photos/photos/185-jeff.htm
James Doty comments:
Here is a weblink to a photo of a CD185 Jeffery and its Jeffery pin.
http://eyecandy.freehostia.com/185JefferyJefpin.jpg

Return to the ICON articles page