2001 Western Regional

They came from Florida, Alaska, Michigan, Illinois, Nebraska, Texas, New Mexico and all points West. They traveled by train, by plane, by auto, pickup and RV. About 440 people total attended the National Insulator Association's Western Regional Show in Medford, Oregon June 2nd & 3rd.

The Jefferson State Insulator Club, in existence for only 11/2 years, hosted the show hoping to attract collectors from a wide area. 76 tables were reserved in the large, open, National Guard arena illuminated significantly with natural lighting. Sales were strong for many sellers, based on experience and reports that were passed on to club members.

Exhibits were quite excellent. Bill Ostrander poured his heart into a mammoth sized exhibit of power insulators that required six hours to erect! Gil Hedges-Blanquez displayed insulators found in Mexico, accentuated by a laptop display that described each CD in detail. Mexican ballads played in the background

Eloise Haltman showed off some rare glass in spectacular colors. Linda Banks displayed her collection of Lightning Rods and Balls. Mike Parker told the story of gray multi-part porcelains in the Northwest. Tim Drumhiller's display of rare and colorful glass was "to die for." David Scafani and Dale Mlasko displayed rare Southern Oregon mineral water bottles. Young Mindy Michener showed that "Diamonds are a Girl's Best Friend"... diamond ponies, that is.

Nathan Lamkey presented his own interpretation of the "pony" express. Gary Michener displayed a collection of California insulators. Lou Hall presented insulator pins of every imaginable shape. Dan Howard taught us more about radio strains. Carl Scott created an original display of johnny balls. Jim Sinsley screwed around a lot (with CD 147's and 110's), and managed to make the front page of the local paper! Dwayne Anthony brought the NIA's educational exhibit on fake and altered insulators. Howard Banks revealed 50 ways to add insulators to your collection. Finally, members of the host club combined their McLaughlin's for an impressive display of insulators and a couple of rare McLaughlin bottles.

JSIC advertised heavily in local media urging the public to bring in insulators from home. Professional press packets were hand delivered to local newspapers and TV stations two weeks before the show, followed up with reminder faxes and emails days before the show. The club handed out free insulators with the press packets, which proved most effective! Dated aqua signals were given as gifts to the media. These insulators got us past sour receptionists, and in some cases, right into the offices of news directors! All this promotion paid off with a large front page article that appeared in Saturday morning's paper. The article introduced local residents to our hobby, included show dates, times, and two excellent color photos! Two TV stations also covered the show.

The greater Medford area has about 200,000 residents, and is a long distance from other cities. In order to ensure a successful show, the club welcomed dealers of antique bottles, railroad memorabilia, historic photos, and other small collectibles. These dealers all realized strong sales, and intend to return next year. The show was still 80% insulators, but the presence of other collectibles broadened the appeal for the general public. The club was happy for the support of these dealers, and consider such a mix vital to the success of shows in isolated areas such as Medford.

One of the club advertisements featured an old west style "wanted" poster, suggesting that some insulators could fetch a $1000 "reward." Free insulator appraisals were offered. If owners wanted to sell, "sealed bid" auctions were conducted on the spot. While no great surprises walked in the door, the public did bring in two CD 208 California's, a couple of repaired EC&M's, a big box full of emerald green McLaughlin tolls, and other worthwhile pieces that drew bids from dealers. One seller was so grateful, he gave a donation to the club!

The club also offered "instant" collections of both California and McLaughlin insulators as raffle prizes. Besides the instant collections, a pair of Santa Anas, an aqua EC&M, and several books were included in the raffle. One generous dealer even threw in a nice amber signal on Sunday morning to augment the raffle. Apparently the "instant" collection concept worked, as these two lots sold the most tickets. The club sold a total of $816 in raffle tickets.

With table fees and paid admissions, the show was a financial success for the Jefferson State Insulator Club. Veteran dealers provided verbal encouragement for our club to continue hosting shows in Medford. Despite the phenomenal amount of work and planning, we all had a great time and enjoyed hosting this show. We plan to make this an annual event, and intend to apply to the NIA to host future Western Regionals. Some even said that the facility was worthy of a national. How does a Medford national sound in 2005?

The Jefferson State Insulator Club is grateful to the NIA and all the collectors who comprise our wonderful hobby. Without your support, these shows would not be possible. Interestingly, the NIA newsletter "Drip Points" appeared in our mailboxes right after the show. Two articles questioned the role of regional shows, and asked if they should continue as a tradition in our hobby. While quality and attendance at regionals may rise and fall, we would hate to lose the regionals. May the Medford show serve as a beacon of hope that regional shows are alive and well. The Jefferson State Insulator Club will continue to step up to the plate. We challenge other clubs to do the same!

Report by:

Howard Banks JSIC Vice-President

Scott Morrell JSIC Treasurer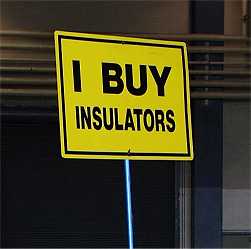 ---
Photo Section
Click on any photo to see a larger version in a new web browser window.
| | | |
| --- | --- | --- |
| Barb Cherry at the admissions table. | Brian Riecker looking over some of his booty. | Jeanne Bridges (L) and Carol McDougald (R). |
| Frank and Mark Feher. | Some of the Feher's fare. | Bob "Guardfrog" Alexander with some of his poster creations. |
| Paul and Cheryl Ziemer. | Gary Michener with Jim and Julie Dennis. | Howard Banks discussing his display. |
| Ron Yuhas checking the price guide before making a discount. | Bob Jackson and Greg Bickford. | Lou Hall at his sales table. |
| Jim Sinsley re-creating his famous newspaper photo. | Caleb Thimell looks up as Tim Wood examines a Zicme. | Paul Cherry pondering a piece from Howard's table. |
| Pretty glass! | Keith Lunt selling bottles to Pat Patocka. | Left to right: Dwayne Anthony, Jeanne Bridges, Carol McDougald and Gil Hedges-Blanquez. |
| The Berke's from Las Vegas. | Vi Brown (Host of the 2000 Western Regional) and Win Trueblood. | John McDougald inspects a blue bell brought in by the public for appraisal/sale. |
| Christy and Angus Brownfield. | Nathan Lamkey watches the admissions table. | Mindy Michener with her winning display. |
| Bill Ostrander with his power insulator display. | Scott Morrell taking one last look at the glass before closing. | Mid Norris cleans up his table with Dave Kingston looking on. |
---
Thanks to all that put in the effort to bring a display to the show!!!

Here are the displays in alphabetical order, and the awards they won.
Click on any image to see a larger version in a new web browser window.
| | |
| --- | --- |
| | Dwayne Anthony, Altered Insulators (non-competitive) |
Howard Banks, 50 ways to get your insulators (non-competitive)

Club Ribbon, First Place "Non-competitive Display"
Linda Banks, Lightning Strikes

First Place, Lightning Rod Equipment
| | |
| --- | --- |
| | Tim Drumhiller, Western Union Insulators |
Lou Hall, Insulator Mounting Pins and Brackets

First Place, Go-Withs
JSIC Club's Choice award ----->
| | |
| --- | --- |
| | Eloise Haltman, COLOR - From Functional Pieces of Glass to Collectors Colorful Precious Jewels |
Gil Hedges, Mexican Insulators

First Place, Foreign
| | |
| --- | --- |
| | Dan Howard, E.F. Johnson Company Insulators |
| | |
| --- | --- |
| | Jefferson State Insulator Club, McLaughlin Glass (non-competitive) |
| | |
| --- | --- |
| | Nathan Lamkey, Pony Express as Envisioned by an Insulator Collector |
| | |
| --- | --- |
| | Gary Michener, California Dreamin' |
Mindy Michener, Diamonds are a Girl's Best Friend (In memory of Dale Guidry)

First Place, Juniors
Crown Jewels award, Juniors
Bill Ostrander, Power Glass and Porcelain

First Place, General
People's Choice award
NIA Best of Show ribbon (Showmanship)
| | |
| --- | --- |
| | Mike Parker, N.W. Oregon Thomas Gray M-3070 Insulators, Mike Parker |
Dave Scafani, Jackson County Bottles

First Place, Bottles
Carl Scott, Johnny's Balls

First Place, Porcelain
Crown Jewels award, Most Original
Jim Sinsley, Sinsley Spirals

First Place, Speciality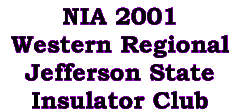 This Section Last Updated June 7, 2001