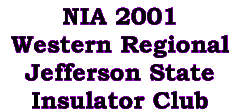 Thanks to all that put in the effort to bring a display to the show!!!

Here are the displays in alphabetical order, and the awards they won.
Click on any image to see a larger version in a new web browser window.
| | |
| --- | --- |
| | Dwayne Anthony, "Altered Insulators" (non-competitive, educational) |
Howard Banks, "Fifty (50) ways to Add Insulators to Your Collection" (non-competitive)

Club Ribbon, First Place "Non-competitive Display"
Linda Banks, "Lightning Strikes"

First Place, Lightning Rod Equipment
| | |
| --- | --- |
| | Tim Drumhiller, "Western Union Insulators" |
Lou Hall, "Insulator Mounting Pins and Brackets"

First Place, Go-Withs
JSIC Club's Choice award ----->
| | |
| --- | --- |
| | Eloise Haltman, "COLOR - From Functional Pieces of Glass to Collectors Colorful Precious Jewels" |
Gil Hedges, "Mexican Insulators"

First Place, Foreign
| | |
| --- | --- |
| | Dan Howard, "E.F. Johnson Company Insulators" |
| | |
| --- | --- |
| | Jefferson State Insulator Club, "McLaughlin Glass" (non-competitive) |
| | |
| --- | --- |
| | Nathan Lamkey, "Pony Express as Envisioned by an Insulator Collector" |
| | |
| --- | --- |
| | Gary Michener, "California Dreamin' " |
Mindy Michener, "Diamonds are a Girl's Best Friend" (In memory of Dale Guidry)

First Place, Juniors
Crown Jewels award, Juniors
Bill Ostrander, "Power Glass and Porcelain"

First Place, General
People's Choice award
NIA Best of Show ribbon (Showmanship)
| | |
| --- | --- |
| | Mike Parker, "N.W. Oregon Thomas Gray M-3070 Insulators" |
Dave Scafani, "Jackson County Bottles"

First Place, Bottles
Carl Scott, "Johnny's Balls"

First Place, Porcelain
Crown Jewels award, Most Original
Jim Sinsley, "Sinsley Spirals"

First Place, Speciality
This Section Last Updated June 17, 2001