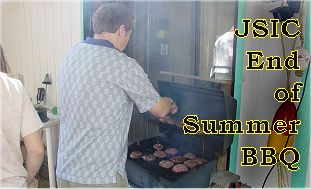 Click on any image to see a full-size version.
Report by Bill Ostrander
In early September, Bob Jackson was in Medford to restock his insulators at the antique mall. He stopped by my house to show off some new porcelain he had just picked. He mentioned that he sure missed the backyard get-togethers we had, and I agreed. So, a call to Howard and 45 postcards later, it was scheduled!
It was a great, relaxed time. There were more show-and-tells than sales stock, except perhaps the minor feeding-frenzy when Bob brought out some boxes. Howard grilled up some buffalo burgers, and we enjoyed lunch in the shade. Scott called a meeting to order, and the main discussion point was our combining the summer show with the local bottle club. Next year, the show will be held October 31, November 1 in Canyonville at the 7-Feathers convention center.
Attending our little soiree were: Bob and Arlene Jackson, Greg and Judy Bickford, the Banks family, Mid Norris, Ken Klein, Nathan Lamkey, Bill Ostrander, Scott and Christy Morrell, Lee Lewis, Bruce Silva, Dale Mlasko, Carl Scott, Gary Michener, Mike Randall and JSIC Juniors Christa Banks, Mariah McAlpine and Mindy Michener.
| | |
| --- | --- |
| | Howard Banks looks over some of the show-and-tells, while Mariah McAlpine and Christa Banks work on the food. Gary and Mindy Michener are on the right. |
| | Mindy Michener tries to get a good deal on a milkglass Maydwell from Nathan Lamkey. |
| | Bruce Silva and Lee Lewis look over a pair of purple signals. |
| | JSIC Juniors Christa Banks and Mariah McAlpine brought out some insul-cookies they had made! That's Mindy Michener on the right. You know, electric blue doesn't taste too bad! From the price guide: Left, CD 162 Electric Blue. Middle, CD 123 EC&M in amber with aqua swirls. Right, CD already eaten! |
| | Ken Klein prices some of the goodies he brought along. |
| | Getting lunch together are Mid Norris, Nathan Lamkey, Scott Morrell, Bob Jackson and Carl Scott. |
| | Scott and Christy Morrell. |
| | We had a door prize...the tickets were handed out, but the prize wasn't shown until the winning number was announced. Bob Jackson was the "lucky" winner. His wife Arlene says "it's not going in the living room!". |
| | Howard gives a talk about EC&M's. Pictured are Bob Jackson, Gary Michener, Ken Klein, Carl Scott, Mike Randall, Scott Morrell, and Howard. |
| | Bob Jackson and Greg Bickford found this crackled California beehive in an area that had been burnt by a forest fire. Note the unusual color. They believe it was a light purple before the heat treatment. |
| | Ken Klein brought a couple of down-guy insulators to show. Note the one on the left made from a small suspension/dead-end insulator! |
| | Here I am, all-smiles, with the Thomas M-4325 I got from Bob Jackson. |

Return to the JSIC homepage.