May 2001
DIXIE JEWELS INSULATOR CLUB
Swap Meet

Hosted by Dudley and Sandra Ellis
Stockbridge, Georgia

At least 41 members and friends of the Dixie Jewels Insulator Club knew
where the action would be, and gathered at the home of Dudley and
Sandra Ellis in Stockbridge, GA this past Saturday, May 19, 2001,
for our quarterly meeting.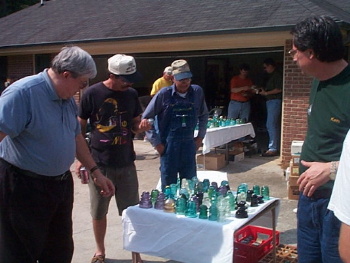 Ken Eikart, Jim Colburn, and Paul Parramore peruse the glass on Keith Roloson's (green shirt) table, while in the background Charles Bibb and Fred Schmidt discuss the relative merits of some "nuked" pieces Fred picked up recently in Florida.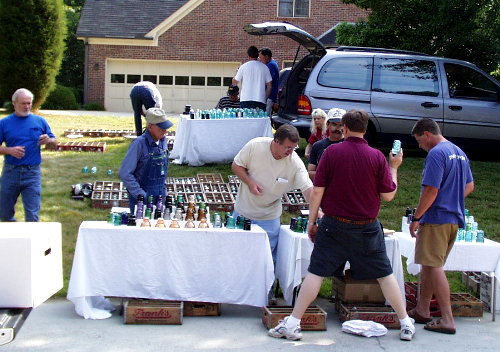 The crowd at Dudley's table included (l-r) Dan Goodrich, Paul Parramore, Jackie Shaver, Jim Colburn, and Stephen Drake.
That's Dudley with his back to the camera and Ken Roberts in the background making a deal from the back of his van.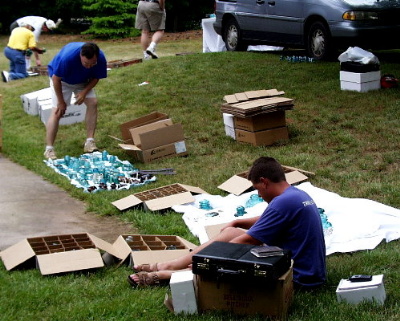 Even when you're having fun, sometimes you've just got to take a break. Stephen Drake "takes five" while Ken Roberts continues to hunt for a "sleeper".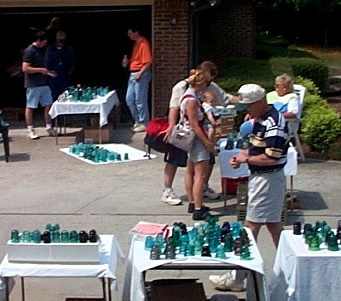 Ed Overstreet walking by Dudley's table in front while new collectors David and Danise Fields school junior in the finer points of selecting that all-important first insulator, while in the background Steve Porco and Charles Bibb try to work out a deal.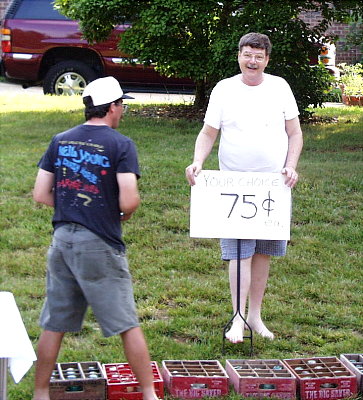 A candid shot of Dudley taken when only the "early birds" had arrived and before his shower. I probably won't be invited back after showing this picture.
Dudley and Sandra are very gracious hosts and I know I speak for everyone when I say how much we appreciate all the hard work that it took to make this event so much fun.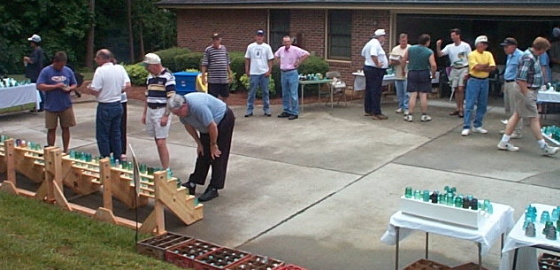 This is what it's all about.
Visiting with old friends and making new ones.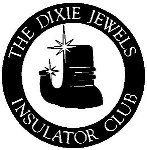 The Dixie Jewels Insulator Club meets on the 3rd Saturday of
February, May, August, and November, and at other shows as possible.

Dues are $10 per year, individual or family.

Newsletter published quarterly.