CANADIAN FORUM

Column 20

By Robin Plewes
Canadian Porcelain
This column has a few bits and pieces of insulator history that I found to be a bit out of the ordinary and would be of interest to collectors.
David Kresz of Toronto Ontario, reports that a customer of his (who once worked for the Lapp Insulator Co.) explained how blind people were employed at the company. They tested the metal parts of the large, disc-shaped, insulators used in high voltage lines, by tapping them. It's thought that blind people may have a sharper sense of hearing. According to the sound the insulators made, they were either accepted or rejected. You certainly didn't want a hairline fracture in one of those. It may not be specifically Canadian, but I thought it was an interesting story that may not have been mentioned before.
Phil Ort of southern Ontario reports that there are some RR telegraph lines in his area that still have the iron wire up in the air from the threadless era. These lines are out of service now and are in very bad shape. This is helpful from the point of view that it speaks of the age of the line and perhaps where the oldest poles may have been. Phil reports that he recalls seeing plenty of iron wire still in use on several lines in the late 1990's. There's not much out there now but if you look hard enough it's out there.
David Fountain of Williamsburg VA., has this interesting portion of his collection. These electric fence insulators are from various parts of the world including at least half a dozen from Canada.
David can be contacted at: 116 Indiana Lane, Williamsburg VA. 23188.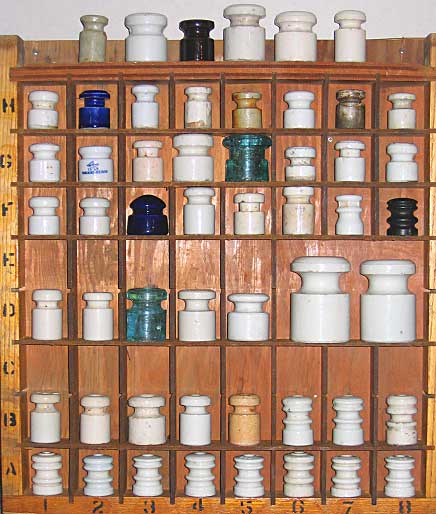 Josh Guisinger of New Lexington Ohio is fortunate enough to have access to the site of the former Consumers Insulator Co. ( CICo ) insulator factory, which was one of the names given to the former New Lexington High Voltage Porcelain Co. ( NLHVPCo ) as they had some financial problems after 1912.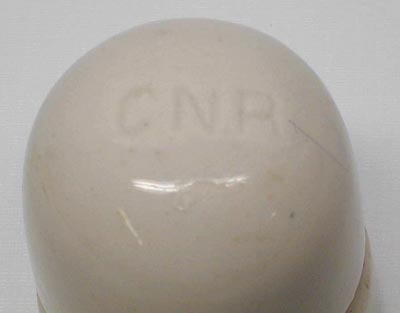 The dig site has provided many insulator molds. In fact there have been more mold pieces than insulators uncovered so far. Most of the molds are for large multipart high voltage insulators, although a few unipart molds have come to light. One of the last items he found before winter put a stop to last year's excavations, was the mold for the top of a beehive shaped insulator. It has to be the top of a U-1131 CNR porcelain insulator. Josh bought one last fall at the Springfield insulator show and it fits the mold nicely. Another The U1131 CNR Incused Embossing feature that ties the insulator to this mold / manufacturer is the fact that both the insulator and other porcelain pieces found during the dig, have fine colored speckles in the porcelain material. It is thought that the NLHVPCo made these insulators rather than the CICo, based on the colored speckles found in corresponding products.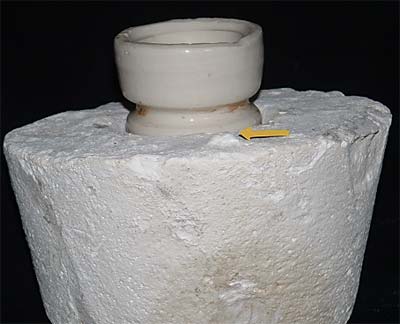 As can be seen in the picture to the right, there is at least one location bump or key on the mold's flat surface to assist with the alignment of the upper portions of the insulator mold. The examples I have seen of this insulator have no visible mold lines, so it is hard to know what the other mold pieces would look like. I would guess that the skirt area of the insulator would be formed by two "C" shaped molds that would separate and allow the insulator to be removed from the large mold the is shown here. I expect that the mold lines were smoothed out during the finishing processes, which would include the glazing.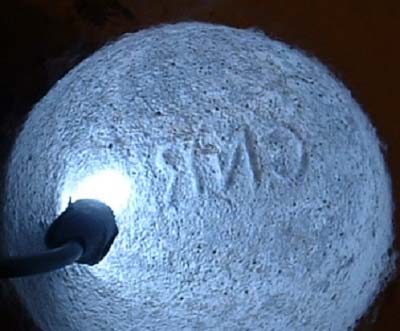 The part that makes this find so interesting is the embossing. Josh reports that the other molds he has found so far are all unembossed. Capturing this mold embossing in a picture took quite a bit of consideration. Josh was able to best illuminate the embossing with a small blue LED light placed inside the mold so that there are few shadows to hide the faint embossing. These insulators generally have light incused embossings, which is understandable now that we can see how frail the raised embossing is inside the mold.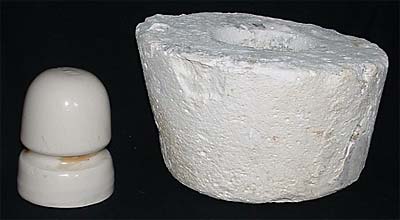 I would like to thank Josh for all the effort he put into photographing his mold for this column, and for sharing his finds with the rest of us in the hobby. It is good to have items such as this documented as a record of who made what in terms of insulator history. It's also interesting to discover that these CNR insulators were made in Ohio. Previously they were thought to have been made in Pittsburgh PA.

For a much more detailed look at the former NLHVPCo, Elton Gish has a very good web site for porcelain insulators and their history. His web site www.r-infinity.com contains other pictures of items Josh has uncovered during is dig.
The header insulator for this column is a U-1131, which has a dome incused embossing of "CNR". Photo credits for this column go to Josh Guisinger, David Fountain and myself.
As always, feel free to contact me with comments, contributions or topics you might like to see covered in future Canadian Forum columns.
Good Collecting ............. Robin
Robin Plewes, Almonte Ontario, Canada.
Phone: 613-256-7638 or Email: highdome@gmail.com

Return to the Canadian Forum