CANADIAN FORUM

Column 10

By Robin Plewes
First ever
"Merritt in the Mountains Insulator Show"
Bob and Bev Scafe hosted the first ever "Merritt in the Mountains Insulator Show" and have been good enough to send in a show a show report for those of us who wanted to be there, but couldn't make it for various reasons.
The show was held at the Insulator Ranch in Merritt, B.C., May 28-29 in bright sunny 86 degree weather. We had 30+ people in attendance.
Notable names included Mark Lauckner who made one of his rare trips off Mayne Island to visit with us. It was good to see Mark again, and we hope to have him back in Sept. Mark arrived Friday afternoon, and left on Monday morning, and your show host thoroughly enjoyed being able to kick back and have several relaxed chats with Mark about insulators, collecting, and the various directions the hobby seems to be headed.
Jack and Shelley Harynuk of Qualicum Beach were first time visitors and Jack had some beautiful insulators available for sale. We look forward to seeing them again, hopefully in Sept. as I would like to be able to spend more time visiting with Jack and Shelley .
Aidan Morgan and Brenda arrived in a new 26 ft trailer on Friday, and it was nice to be able to visit with them before things got hectic. Aidan brought several threadless Tillotson's in a lovely display case, plus a section of pole with the original side pins and square nails used on the old Collins line. This proved to be a great show and tell item, and was very popular with the other collectors.
Jason Porter and daughter Veronica joined us in time to celebrate Veronica's 10th birthday on Sat May 28. Somehow, my wife Bev was able to find a birthday cake and10 candles so we all got to sing "Happy Birthday", and share a piece of birthday cake with Veronica. Jason had some interesting insulators available on his table, and there were usually several folks looking over his offerings.
Richard and Lorraine Enns arrived with a new collector, Jerry and Darlene Reinhart, plus their granddaughter, Jacqueline Muir. Richard swapped and sold a few insulators and Jerry had a good time wandering amongst all the insulator displays, and meeting some of the local collectors.
Bill and Lorna Baker also joined us Saturday afternoon, and had a good time. Bill is a great storyteller, and always had 3-4 people swapping tales with him. It was Lorna's first time at one of our shows, and with her great good humor and personality, we sincerely hope she will come back for more in Sept.
I had notified the local newspapers about the show, and both sent out reporters to cover the event. After reading the newspaper accounts, I am fairly pleased with their coverage of the show. Both papers have invited me to advertise the Sept. show in their "Upcoming Events" in order to attract new collectors and create more awareness of insulator collecting and it's history.
Saturday afternoon found many collectors and a few of our neighbours sitting in the shade of some awnings, erected for just that purpose. The temperatures soared to a very unseasonable 86 degrees, but under the awnings, there was a nice breeze. Folks were happy to sit and chat until the cooler evening temperatures arrived. General consensus of the neighbours was that these insulator collectors are pretty interesting folks, and the neighbours are planning to be at the Sept. 10-11 show
Jason along with Jim Rogalsky shared the "last one to bed" award Saturday evening. They sat around the campfire swapping tall tales until 2 AM, before finally crashing. Honorable mention goes to Dave Fleishman who faded out about 1 AM.
Jim Foulkes arrived in time for Breakfast Sunday morning, bringing with him various insulators recovered from lines being torn down.
Bev prepared the Bacon and Sausage, while Mark Lauckner donned the chef's cap and whipped up some great scrambled eggs. With Breakfast out of the way, folks got down to some last minute wheeling and dealing, and several more insulators found new homes.
My thanks to 8 year old Jacqueline Muir and Veronica Porter, [10], who allowed us to take their pictures at the "Free Table" for one of the local newspapers. Also my thanks to Jason Porter and Jack Harynuk who saw my request on ICON for Montreal embossed insulators for one of my trade partners in France. Thanks fellas for you generosity. To all who attended, thank-you, we hope you enjoyed yourselves, and we look forward to seeing you in Sept. To those who weren't able to come out to the show, you missed a good one, but we are already working on making the Sept.10-11 show even better. We hope to see you then, along with James Bancroft of England who will be here to meet the local insulator collectors. Hope to see you all in September. Bob Scafe, Merritt, B.C.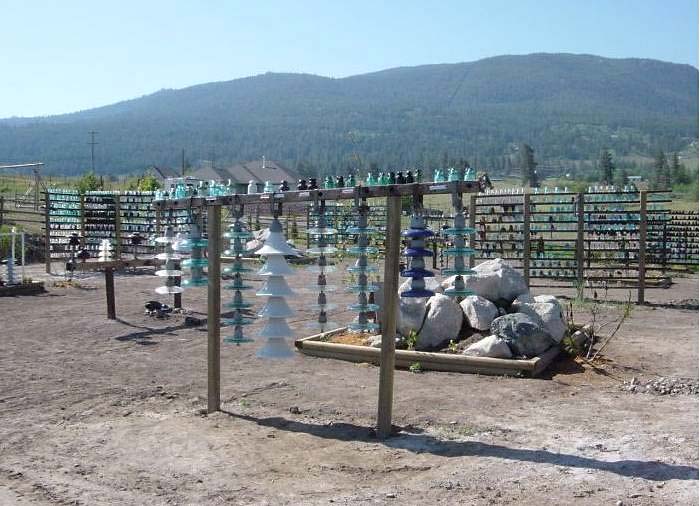 14,000+ lbs of insulators nicely displayed outdoors at the Insulator Ranch
This column's photos are used with thanks to Dwayne Anthony and Jack Harynuk. The header insulator for this column is a CD 162 No Name Canadian insulator, skirt embossed with the number 1678. This number is thought to be a manufacturer's style or catalogue number
As always, feel free to contact me with comments, contributions or topics you might like to see covered in future Canadian Forum columns.
Good Collecting ............. Robin
Robin Plewes, Almonte Ontario, Canada.
Phone: 613-256-7638 or Email: highdome@gmail.com

Return to the Canadian Forum