its linear capacitance by about 8%. The resistance and leakage are not changed and the attenuation is slightly increased. The characteristic impedance is reduced by about 50 ohms.
Where open wire line facilities are designed to carry broad-band carrier systems (Type-J) employing frequencies up to 140 kc, 8 or 6 inch spacing between wires of a pair is employed, and the pole-pair groups are usually dispensed with. Each crossarm then carries 8 wires, with spacings and configurations as indicated in Figures 18-3 and 18-4, and no phantom circuits are provided for. These configurations are designated 8-24-8 and 6-30-6 respectively.
Open wire facilities are subject to the effects of leakage which increase attenuation losses, particularly at carrier frequencies, and which must be adequately controlled to obtain satisfactory transmission. This is done by insulating the wires from their supporting structure with glass insulators. The effectiveness of such insulators under given conditions of weather varies with their size, shape, and the kind of pin employed.
When new open wire facilities are placed on existing lines and are likely to be used for carrier operation at frequencies above 10 kc, it is necessary to take into account the manner in which the other pairs on the line are insulated. This arises from the fact that the wet weather attenuation of similar gage facilities equipped with different types of insulators is unequal and that as a result energy level differences may occur, which cause crosstalk. When this is the case, it may be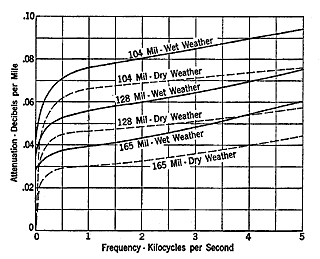 FIG. 18-5 ATTENUATION-FREQUENCY CHARACTERISTICS OF OPEN WIRE SIDE CIRCUITS OVER THE VOICE RANGE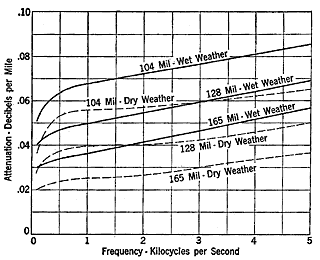 FIG. 18-6 ATTENUATION-FREQUENCY CHARACTERISTICS OF OPEN WIRE PHANTOM CIRCUITS OVER THE VOICE RANGE
desirable that all of the open wire facilities of the same gage which are to be used for carrier operation at frequencies above 10 kc be equipped with the same type insulators.
Table IX gives the more important physical and electrical constants of the commonly used types of open wire circuits. The values given are calculated for the single frequency of 1000 cycles and they apply only under more or less ideal conditions. Caution must therefore be used in applying them to practical problems. For example, the leakage of open wire conductors depends upon weather conditions. In wet weather the values for G given in the Table may be very considerably increased, and the various constants dependent to a greater or lesser extent on this value, such as attenuation, wavelength, and characteristic impedance, would change accordingly.
The Table of course does not give information regarding any variations of the circuit constants through the voice frequency range. In practically all cases, however, the attenuation, as well as certain of the other circuit constants, changes somewhat with changing frequency. The magnitude of this attenuation change can be determined from curves in which attenuation is plotted against frequency through the working range. Figures 18-5 and 18-6 give representative attenuation-frequency curves for 104, 128, and 165 open wire, side and phantom circuits, having the wire spacing and configuration shown in Figure 18-1, over the frequency range from 0 to 5000 cycles. Separate curves are given for dry and, wet weather